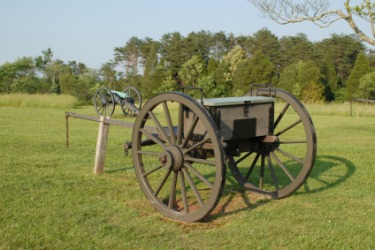 An old artillery caisson on display at a national park.
---
caisson
noun
a chest for holding ammunition
a two-wheeled wagon for transporting ammunition
a watertight enclosure inside which underwater construction work can be done
a watertight box for raising sunken ships: after the box is sunk and attached, the water is forced out of it so that it floats
a hollow, boat-shaped box, used as a floodgate at a dock or basin
Origin of caisson
French ; from Italian
cassone
; from
cassa
, a chest ; from Classical Latin
capsa
, a box, case
---
caisson
noun
A watertight structure within which construction work is carried on under water.
See camel.
A large box open at the top and one side, designed to fit against the side of a ship and used to repair damaged hulls under water.
A floating structure used to close off the entrance to a dock or canal lock.

a. A horse-drawn vehicle, usually two-wheeled, used to carry artillery ammunition and coffins at military funerals.

b. A large box used to hold ammunition.
Origin of caisson
French, from Old French,
large box
, alteration (influenced by
caisse
,
chest
) of
casson
, from Italian
cassone
, augmentative of
cassa
,
box
, from Latin
capsa
.
caisson
escorting the coffin of President Ronald Reagan to the US Capitol Rotunda in 2004
---
caisson
---