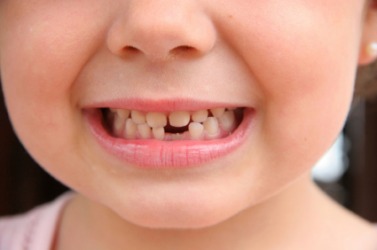 The gap where the missing tooth was is a lacuna.
noun
The definition of a lacuna is a space where something is missing.

An example of a lacuna is the gap left between two teeth when a tooth falls out.
---
lacuna
noun
pl.

-·nas

or

-·nae
a space where something has been omitted or has come out; gap; hiatus; esp., a missing portion in a manuscript, text, etc.
a space, cavity, or depression; specif., any of the very small cavities in bone that are filled with bone cells
Origin of lacuna
L, a ditch, hole, pool from
lacus
: see lake
---
lacuna
noun
pl.
la·cu·nae,
or
la·cu·nas
An empty space or a missing part; a gap: "self-centered in opinion, with curious lacunae of astounding ignorance" ( Frank Norris )
Anatomy A cavity, space, or depression, especially in a bone, containing cartilage or bone cells.
Origin of lacuna
Latin
lacūna
; see
lagoon
.
Related Forms:
---
lacuna

Noun
(plural lacunae or lacunas)
Origin
From Latin lacūna ("ditch, gap"), diminutive form of lacus ("lake").
---