space

space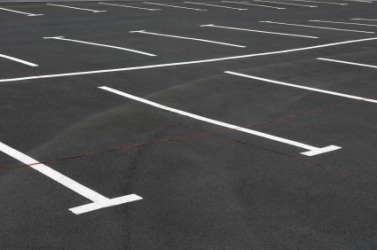 An empty parking space.
noun
Space is the three-dimensional area around you, including the universe.

An example of space is where stars and planets exist.
An example of space is where Ham the Chimp travelled for 16 minutes and 39 seconds in 1961 during the first space flight in one of the Project Mercury capsules named MR-2.

The definition of a space is an empty, blank or available area.

An example of space is an empty parking place.
An example of space is the blank spot between two words written on paper.
---
space
the three-dimensional, continuous expanse extending in all directions and containing all matter: variously thought of as boundless or indeterminately finite
outer space

a continuous, unoccupied area, as between, over, within, etc. things
area or room sufficient for or allotted to something: a parking space

an interval or period of time, often one of specified length
reserved accommodations: to buy space on a ship
room in a newspaper or magazine, or time on radio or TV, available for use by advertisers

Informal

independence, privacy, and freedom to follow one's own interests

Math.

a set of points or elements assumed to satisfy a given set of postulates (Ex.: space of one dimension is a line and of two dimensions is a plane)

Music

the open area between any two lines of a staff

Printing

a blank piece of type metal used to separate characters or words
the area left vacant by this or by mechanical or electronic means on a printed or typed line

Telegraphy

an interval when the key is open, or not in contact, during the sending of a message
Origin of space
Middle English from Old French
espace
from Classical Latin
spatium
from Indo-European base an unverified form
sp?i-,
to flourish, expand, succeed from source speed, Classical Latin
spes,
hope, Old Norse
sparr,
Old English
spær
, thrifty
of or pertaining to space, esp. to outer space
transitive verb
spaced

,

spac′ing
to arrange with space or spaces between; divide into or by spaces: often with out
space out
to insert more space between letters, words, or lines so as to extend to the required length
to be or seem to be in a daze, distracted, inattentive, etc.
---
space
noun
a. Mathematics A set of elements or points satisfying specified geometric postulates: non-Euclidean space.

b. The infinite extension of the three-dimensional region in which all matter exists.

a. The expanse in which the solar system, stars, and galaxies exist; the universe.

b. The region of this expanse beyond Earth's atmosphere.

a. An extent or expanse of a surface or three-dimensional area: Water covered a large space at the end of the valley.

b. A blank or empty area: the spaces between words.

c. An area provided for a particular purpose: a parking space.

Reserved or available accommodation on a public transportation vehicle.

a. A period or interval of time: within the space of a week.

b. A little while: Let's rest for a space.

Sufficient freedom from external pressure to develop or explore one's needs, interests, and individuality: "The need for personal space inevitably asserts itself" ( Maggie Scarf )
Music One of the intervals between the lines of a staff.
Printing One of the blank pieces of type or other means used for separating words or characters.
One of the intervals during the telegraphic transmission of a message when the key is open or not in contact.
Blank sections in printed material or broadcast time available for use by advertisers.
verb
spaced, spac·ing, spac·es
verb
transitive
To organize or arrange with spaces between: Carefully space the words on the poster.
To separate or keep apart: The buildings are spaced far from each other.
Slang To stupefy or disorient. Often used with out : The antihistamine spaces me out so I can't think clearly.
verb
intransitive
Slang
To be or become stupefied or disoriented. Often used with out : I was supposed to meet her, but I spaced out and forgot.
Origin of space
Middle English
area
from
Old French
espace
from
Latin
spatium
Related Forms:
---
space

---
space - Computer Definition
(1) In digital electronics, a 0 bit. Contrast with mark.
(2) The trendy word that started in the 1990s for area or field of endeavor. For example, the phrase "we are involved in the videoconferencing space" refers simply to the videoconferencing industry. To many, this sounds more chic than using a word such as "field," "arena" or "industry."
---