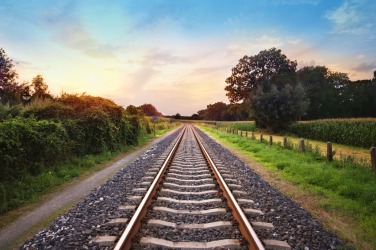 A straight stretch of railroad track.
noun
The definition of a track is a specific area on which something is to take place or that has been designed for a specific purpose, like for a train to run along it or for runners to run on.

An example of a track is a railroad track that a train runs along.
An example of a track is a paved area meant for runners to run on.
verb
To track is to monitor the progress of something, to follow behind something or to try to find something.

An example of track is when you chart your weight.
An example of track is when you follow behind an animal when hunting to try to find the animal.
An example of track is when you search for a criminal.
---
track
a mark or series of marks or other discoverable evidence left by a person, animal, or thing that has passed, as a footprint, wheel rut, wake of a boat, etc.
a trace or vestige
a beaten path or trail left by the repeated passage of persons, animals, or vehicles

[often pl.] a course or line of motion or action; route; path; way: to double back on one's tracks
the projection of the flight path of an airplane, rocket, etc. on the surface of the earth

a sequence of ideas, events, etc.; succession
a path or circuit laid out for running, horse racing, etc.
any of the courses of study continuing through succeeding grades in an educational structure (

tracking

), arranged according to various levels of mastery, to which students are assigned on the basis of test performance, abilities, needs, etc.
a pair of parallel metal rails, with their crossties, etc., on which trains, streetcars, etc. run
the distance between the centers of the tread of parallel wheels, as of an automobile
either of the two endless belts with which tanks, some tractors, etc. are equipped for moving over rough ground

the narrow channel, containing lengthwise copper wires or strips carrying electric current, into which track lights are inserted
any of various structural channels or grooves, as one that holds a sliding door or window

the tread of an automobile tire

athletic sports performed on a track, as running, hurdling, etc.
track and field sports together

soundtrack
any of the separate divisions on a phonograph record, compact disc, etc. containing individual selections
any of the separate, parallel recording surfaces extending along the length of a magnetic tape
the long continuous spiral groove on a phonograph record in which a stylus moves
any of the concentric bands on a hard disk or floppy disk, constituting distinct areas for data storage

Film

tracking shot
Origin of track
Late Middle English
trak
from Middle French
trac
, a track, tract, trace from uncertain or unknown; perhaps
to follow the track or footprints of: to track game
to follow (a path, etc.)

to trace by means of vestiges, evidence, etc.
to plot the path of and record data from (an aircraft, spacecraft, missile, etc.) using radar, a telescope, etc.
to tread or travel

to leave tracks or footprints on (often with up)
to leave in the form of tracks: to track dirt over a floor

to provide with tracks or rails

Educ.

to assign to a track (noun)

Film

to follow (a moving object or person) with a moving camera
to run in the same (width) track
to be in alignment, as gears, wheels, or the stylus of a phonograph cartridge with a groove on a record
to have a (specified) width between the wheels: a narrow-gauge car tracks less than 56 inches

Film

to track a moving object: said of a camera or its operator
dead in one's tracks
Informal
abruptly, as from being stunned or otherwise rendered unable to proceed:
his insult stopped me in my tracks
keep track of
to keep an account of; stay informed about
lose track of
to fail to keep informed about; lose sight or knowledge of
make tracks
Informal
to proceed or depart hurriedly
on (or off) the track
keeping to (or straying from) the subject, objective, or goal
the wrong side of the tracks
that part of a community where those considered socially and culturally inferior live
Origin of track
with ref. to railroad tracks
track down
to pursue until caught, as by following tracks
to investigate fully or search for until found
---
track
noun
a. A mark or succession of marks left by something that has passed.

b. A path, route, or course indicated by such marks: an old wagon track through the mountains.

A path along which something moves; a course: following the track of an airplane on radar.

a. A course of action; a method of proceeding: on the right track for solving the puzzle.

b. An intended or proper course: putting a stalled project back on track.

A succession of ideas; a train of thought.
Awareness of something occurring or passing: keeping track of the score; lost all track of time.
Sports

a. A course laid out for running or racing.

b. Athletic competition on such a course; track events.

c. Track and field.

A rail or set of parallel rails upon which railroad cars or other vehicles run.
tracks The boundary, formerly often delineated by train tracks, that separates two neighborhoods of different social class: grew up on the wrong side of the tracks.
Either of the continuous metal belts with which vehicles such as bulldozers and tanks move over the ground.
A metal groove or ridge that holds, guides, and reduces friction for a moving device or apparatus.
Any of several courses of study to which students are assigned according to ability, achievement, or needs: academic, vocational, and general tracks.

a. A distinct path, as along a length of film or magnetic tape, on which sound, images, or other information is recorded.

b. A distinct selection from an audio or video recording, usually containing an individual work or part of a larger work: the title track of an album.

c. One of two or more separate recordings that are combined so as to be replayed simultaneously, as in stereophonic sound reproduction: mixed the vocal track and instrumental track.

Computers

a. One of the concentric magnetic rings that form the separate data storage areas on a floppy disk or a hard disk.

b. A set of digital data encoded consecutively on an optical disc.

tracks Slang Needle marks on the skin from multiple intravenous injections, considered an indication of habitual drug use.
verb
tracked, track·ing, tracks
verb
transitive
To follow the tracks of; trail: tracking game through the forest.

a. To leave marks made of (dirt or mud, for example) on a surface: The dog tracked mud on the rug.

b. To leave marks on (a floor, for example) when moving or traversing: You're tracking up my nice clean floor!

a. To observe or monitor the course of (an aircraft, for example), as by radar.

b. To observe the progress of; follow: tracking the company's performance daily.

c. To determine or discover the location or origin of: tracked the money to an offshore account.

To equip with a track.
To assign (a student) to a curricular track.
verb
intransitive
To follow a course; travel: The storm is tracking up the coast.

a. To keep a constant distance apart. Used of a pair of wheels.

b. To be in alignment: The gears are not tracking properly.

a. To follow the undulations in the groove of a phonograph record. Used of a needle.

b. To move across magnetic heads. Used of magnetic tape.

To move in relation to a subject being filmed. Used of a camera or camera crew.
Phrasal Verbs:
track down
To pursue until found or captured:
tracked him down at the pub.
Origin of track
Middle English
trak
from
Old French
trac
perhaps of Germanic origin
Related Forms:
---
track

Noun
(plural tracks)
A mark left by something that has passed along; as, the track, or wake, of a ship; the track of a meteor; the track of a sled or a wheel.
A mark or impression left by the foot, either of man or beast; trace; vestige; footprint.
The entire lower surface of the foot; said of birds, etc.
A road; a beaten path.
Course; way; as, the track of a comet.
A path or course laid out for a race, for exercise, etc.
(railways) The permanent way; the rails.
A tract or area, as of land.
(automotive) Short for caterpillar track.
(cricket) The pitch.
Sound stored on a record.
The physical track on a record.
(music) A song or other relatively short piece of music, on a record, separated from others by a short silence
Circular (never-ending) data storage unit on a side of magnetic or optical disk, divided into sectors.
(uncountable, sports) The racing events of track and field; track and field in general.

I'm going to try out for track next week.

A session talk on a conference.
Verb
(third-person singular simple present tracks, present participle tracking, simple past and past participle tracked)
To observe the (measured) state of an object over time
To monitor the movement of a person or object.
To discover the location of a person or object (usually in the form track down).
To follow the tracks of.

My uncle spent all day tracking the deer.

To leave in the form of tracks.

In winter, my cat tracks mud all over the house.
Origin
(noun) From Old French trac (French: traque), from a Germanic source akin to Old Norse traðk "trodden place, track" (norw. trakke "to trample"), Dutch: trek, Middle Low German: treck.
---
track - Computer Definition
(1) A single song or musical composition on a CD or as a download. See online music store.
(2) The metal interconnecting pathways on a chip that tie the transistors, resistors and capacitors together. There can be eight or more layers of tracks on a chip (integrated circuit). See MOSFET.
(2) The storage channel on a disk or tape. On magnetic disks (hard, floppy, Zip, etc.), tracks are concentric circles. CD and DVD tracks have one continuous, spiral-shaped channel starting near the center and moving outward. On magnetic tapes, tracks are parallel lines along the length of the tape. Helical scan tapes use diagonal lines (see helical scan). On magnetic devices, bits are recorded as reversals of polarity in the magnetic surface. On optical media, the bits are recorded either as physical pits under a clear, protective layer or as changes in the reflectivity of the material. See magnetic disk and optical disc.
---