path

-path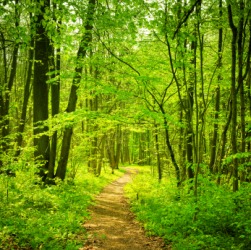 A path through the forest.
noun
The definition of a path is a trail, route, course or a line of movement.

An example of a path is what deer follow through the forest.
An example of a path is what hikers follow up a mountain.
An example of a path is the direction taken by a tornado.
An example of path is the vapor left behind a plane in the sky.
---
path
a track or way worn by footsteps; trail
a walk or way for the use of people on foot, as in a park or garden
a line of movement; course taken: the path of the meteor
a course or manner of conduct, thought, or procedure
Origin of path
Middle English from Old English
pæth
, akin to German
pfad,
Dutch
pad,
probably early Germanic loanword from Iranian (as in Avestan
path-
) from Indo-European base an unverified form
pent(h)-,
to step, go from source find, Classical Latin
pons,
bridge
---
path
noun
pl.
paths,
A trodden track or way.
A road, way, or track made for a particular purpose: a bicycle path.
The route or course along which something travels or moves: the path of a hurricane.
A course of action or conduct: the path of righteousness.
Computers

a. A sequence of commands or a link between points that is needed to reach a particular goal.

b. A pathname.
Origin of path
Middle English
from
Old English
pæth
; see
pent-
in Indo-European roots.
path-
-path
suffix
A practitioner of a specified kind of medical treatment: naturopath.
One affected by a specified kind of disorder: sociopath.
Origin of -path
Back-formation from
-pathy
---
path

Noun
(plural paths)
A trail for the use of, or worn by, pedestrians.
A course taken.

the path of a meteor, of a caravan, or of a storm

(paganism) A Pagan tradition, for example witchcraft, Wicca, druidism, Heathenry.
A metaphorical course.
(computing) A human-readable specification for a location within a hierarchical or tree-like structure, such as a file system or as part of a URL
(graph theory) A sequence of vertices from one vertex to another using the arcs (edges). A path does not visit the same vertex more than once (unless it is a closed path, where only the first and the last vertex are the same).
(topology) A continuous map from the unit interval to a topological space .
Verb
(third-person singular simple present paths, present participle pathing, simple past and past participle pathed)
To make a path in, or on (something), or for (someone).
Origin
From Middle English path, peth, from Old English pæþ ("path, track"), from Proto-Germanic *paþaz ("path") (compare West Frisian paad, Dutch pad, German Pfad), from Scythian (compare Avestan [script?] (panta), gen. [script?] (paθa, "way"), Old Persian [script?] (pathi-)), from Proto-Indo-European *pent- (compare English find). More at find.
---
path - Computer Definition

The physical route of a circuit. See also circuit and virtual path (VP).
---
(1) In communications, the route between any two nodes. Same as "line," "channel," "link" or "circuit."
(2) In database management, the route from one table to another, such as from customers to orders.
(3) A selected area in an image. See clipping path.
(4) A list of folders that should be searched to locate executable files run from the command line. See Path environment variable.
(5) The route to a file on a storage device (hard disk or SSD). The path shows the hierarchy of folders and subfolders (directories and subdirectories) starting at an origin point called the "root." The following examples show how the path is expressed on a command line to the MYLIFE.TXT file in the STORIES subfolder located within the JOE folder. In DOS/Windows The JOE folder is in the C: drive: c:\joe\stories\mylife.txt In Unix/Linux/Mac The drive would already have been selected: /joe/stories/mylife In Macs Prior to OS X The JOE folder is in the HDD200 drive: hdd200:joe:stories:mylife
The Following Examples
For simplicity, the following examples come from the early Windows version of this encyclopedia when the software was installed as a top-level folder off the root of the C: drive. Subsequent versions are installed in the Program Files folder.
Using Paths
In the Windows version of this encyclopedia, this dialog box displays the path to the CDETEXT.TXT file. For more details on the Windows folder hierarchy, see
Win Folder organization
.
---