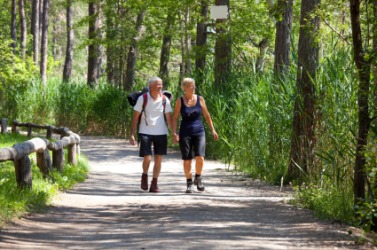 A couple out for a walk.
noun
The definition of a walk is a period of movement on foot.

An example of walk is a stroll to the grocery store.
verb
Walk is defined as to travel on foot.

An example of walk is to stroll down the street.
---
walk
to go along or move about on foot at a moderate pace; specif.,

to move by placing one foot firmly before lifting the other, as two-legged creatures do, or by placing two feet firmly before lifting either of the others, as four-legged creatures do
to go about on foot for exercise or pleasure; hike

to return after death and appear on earth as a ghost
to advance or move in a manner suggestive of walking: said of inanimate objects

to follow a certain course of life; conduct oneself in a certain way: let us walk in peace
to join with others in a cooperative action, a cause, etc.

Obs.

to be active or in motion, or to keep moving

Slang

to be acquitted or set free without punishment: usually connoting a belief in the accused person's guilt

Slang

to go on strike
to leave abruptly, often in anger or in a show of protest

Baseball

to be advanced to first base as a result of being pitched four balls

Basketball

travel

Jazz

to play a walking bass part, as on a double bass or piano
Origin of walk
Middle English
walken
from Old English
wealcan
, to roll, journey, akin to German
walken
, Frankish an unverified form
walken
, to full (cloth), stamp from Indo-European an unverified form
wolg-
from base an unverified form
wel-
, to turn, roll from source Classical Latin
volvere
, to roll, Classical Greek
eilyein
, to roll up, wrap
to go through, over, or along at a moderate pace on foot: to walk the deck, the streets, etc.
to traverse (a boundary, fence, etc.) on foot in order to survey, inspect, or repair

to cause (a horse, dog, etc.) to move at a walk; lead, ride, or drive at a walk
to train and exercise (a horse, dog, etc.) in this way

to push (a bicycle, motorcycle, etc.) while walking alongside or behind
to accompany (a person) on a walk or stroll: to walk a friend home

to force (a person) to move at a walk, as by grasping the shoulders and pushing
to help (a disabled person) to walk

to bring (a person or animal) to a specified state by walking: to walk someone to exhaustion
to move (a bulky or heavy object) by rocking along from one side or corner to another in a manner suggestive of walking

Baseball

to advance (a batter) to first base by pitching four balls
to force (a run) in by doing this when the bases are loaded
the act of walking
a period or course of walking for pleasure or exercise; stroll or hike
a route traversed by walking
a distance walked, often in terms of the time required: an hour's walk from home
a relatively slow pace
a manner of walking: to know someone by his walk
a particular station in life, sphere of activity, occupation, etc.: people from all walks of life

Now Rare

mode of living
a path, avenue, etc. specially prepared or set apart for walking; specif., sidewalk
ropewalk

a plantation of trees in rows with a space between
the space between any two such rows

a place or enclosure for grazing or exercising animals, as a sheepwalk

Brit.

the route covered in one's round of duty or work, as in delivering mail
a race between walking contestants: in this sport, at all times, some part of either foot must be in contact with the ground

Baseball

the act or an instance of walking a batter or of being walked
walk (all) over
Informal
to defeat overwhelmingly
to treat in a domineering and unfeeling way
walk away from
to outdistance easily; defeat handily
to remove oneself from involvement in or responsibility for; abandon: walk away from a fight, walk away from a foreclosed house
walk off
to go away, esp. without warning
to get rid of by walking: to walk off pounds
walk off with
to steal
to win (a contest) or gain (a prize), esp. easily
walk out
to leave abruptly or angrily
to go on strike
walk out on
Informal
to desert; abandon
walk through
Theater

to carry out a walk-through of
to make or become familiar with (a process, job, etc.) as by a step-by-step demonstration
walk with God
to lead a godly, morally upright life
---
walk
verb
walked, walk·ing, walks
verb
intransitive
To move over a surface by taking steps with the feet at a pace slower than a run: a baby learning to walk; a horse walking around a riding ring.

a. To go or travel on foot: walked to the store.

b. To go on foot for pleasure or exercise; stroll: walked along the beach looking for shells.

c. To move in a manner suggestive of walking: saw a woodpecker walking up the tree trunk.

To conduct oneself or behave in a particular manner; live: walks in majesty and pride.
To appear as a supernatural being: The specter of famine walks through the land.
Informal

a. To go out on strike.

b. To resign from one's job abruptly; quit.

c. To be acquitted: The alleged killer walked.

a. Baseball To go to first base after the pitcher has thrown four pitches ruled as balls.

b. Basketball To move illegally while holding the ball; travel.

Obsolete To be in constant motion.
verb
transitive
To go or pass over, on, or through by walking: walk the financial district of a city.
To bring to a specified condition by walking: They walked me to exhaustion.
To cause to walk or proceed at a walk: walk a horse uphill.
To accompany in walking; escort on foot: walk the children home; walked me down the hall.
To traverse on foot in order to survey or measure; pace off: walked the bounds of the property.
To move (a heavy or cumbersome object) in a manner suggestive of walking: walked the bureau into the hall.
Baseball

a. To allow (a batter) to go to first base by throwing four pitches ruled as balls.

b. To cause (a run) to score by walking a batter. Often used with in.
noun
a. The gait of a human or other biped in which the feet are lifted alternately with one part of a foot always on the ground.

b. The gait of a quadruped in which at least two feet are always touching the ground, especially the gait of a horse in which the feet touch the ground in the four-beat sequence of near hind foot, near forefoot, off hind foot, off forefoot.

c. The self-controlled extravehicular movement in space of an astronaut.

The act or an instance of walking, especially a stroll for pleasure or exercise.

a. The rate at which one walks; a walking pace.

b. The characteristic way in which one walks.

The distance covered or to be covered in walking.
A place, such as a sidewalk or promenade, on which one may walk.
A route or circuit particularly suitable for walking: one of the prettiest walks in the area.

a. Baseball A base on balls.

b. Basketball The act or an instance of moving illegally with the ball; traveling.

Sports

a. A track event in which contestants compete in walking a specified distance.

b. Racewalking.

An enclosed area designated for the exercise or pasture of livestock.

a. An arrangement of trees or shrubs planted in widely spaced rows.

b. The space between such rows.
Phrasal Verbs:
walk out
To go on strike.To leave suddenly, often as a signal of disapproval.
walk over
Informal
To treat badly or contemptuously.To gain an easy or uncontested victory over.
walk through
To perform (a play, for example) in a perfunctory fashion, as at a first rehearsal.
Origin of walk
Middle English
walken
from
Old English
wealcan
to roll
; see
wel-
2
in Indo-European roots.
Related Forms:
---
walk

Verb
(third-person singular simple present walks, present participle walking, simple past and past participle walked)
(intransitive) To move on the feet by alternately setting each foot (pair or group of feet, in the case of animals with four or more feet) forward, with at least one foot on the ground at all times. Compare run.

To walk briskly for an hour every day is to keep fit.

(intransitive, colloquial, law) To "walk free", i.e. to win, or avoid, a criminal court case, particularly when actually guilty.

If you can't present a better case, that robber is going to walk.

(intransitive, colloquial, euphemistic) Of an object, to be stolen.

If you leave your wallet lying around, it's going to walk.

(intransitive, cricket, of a batsman) To walk off the field, as if given out, after the fielding side appeals and before the umpire has ruled; done as a matter of sportsmanship when the batsman believes he is out.
To travel (a distance) by walking.

I walk two miles to school every day.   The museum's not far from here - you can walk it.

To take for a walk or accompany on a walk.

I walk the dog every morning.   Will you walk me home?

(baseball) To allow a batter to reach base by pitching four balls.
To move something by shifting between two positions, as if it were walking.

I carefully walked the ladder along the wall.

To traverse by walking (analogous gradual movement).

I walked the streets aimlessly.   Debugging this computer program involved walking the heap.

(intransitive, colloquial) To leave, resign.

If we don't offer him more money he'll walk.

To push (a vehicle) alongside oneself as one walks.
To behave; to pursue a course of life; to conduct oneself.
To be stirring; to be abroad; to go restlessly about; said of things or persons expected to remain quiet, such as a sleeping person, or the spirit of a dead person.
William Shakespeare (1564-1616)

I have heard, but not believed, the spirits of the dead / May walk again.

Ben Jonson (1572-1637)

Do you think I'd walk in any plot?
Noun
(plural walks)
A trip made by walking.

I take a walk every morning

A distance walked.

It's a long walk from my house to the library

(sports) An Olympic Games track event requiring that the heel of the leading foot touch the ground before the toe of the trailing foot leaves the ground.
A manner of walking; a person's style of walking.

The Ministry of Silly Walks is underfunded this year

(baseball) An award of first base to a batter following four balls being thrown by the pitcher; known in the rules as a "base on balls".

The pitcher now has two walks in this inning alone
Origin
From Middle English walken ("to move, roll, turn, revolve, toss"), from Old English wealcan ("to move round, revolve, roll, turn, toss"), Ä¡ewealcan ("to go, traverse"); and Middle English walkien ("to roll, stamp, walk, wallow"), from Old English wealcian ("to curl, roll up"); both from Proto-Germanic *walkanÄ…, *walkōnÄ… ("to twist, turn, roll about, full"), from Proto-Indo-European *walg-, *walk- ("to twist, turn, move"). Cognate with Scots walk ("to walk"), West Frisian swalkje ("to wander, roam"), Dutch walken ("to full, work hair or felt"), Dutch zwalken ("to wander about"), German walken ("to flex, full, mill, drum"), Danish valke ("to waulk, full"), Latin valgus ("bandy-legged, bow-legged"). More at vagrant.
---