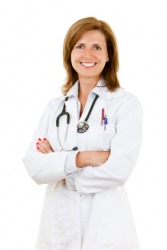 This woman is a doctor by occupation.
noun
Occupation is your job or the way you spend your time or one country maintaining a military presence in another.

An example of occupation is when you are a doctor or a lawyer.
An example of occupation is when the United States maintains military troops in Iraq to keep control and order.
---
occupation
an occupying or being occupied; specif., the seizure and control of a country or area by military forces
that which chiefly engages one's time; (one's) trade, profession, or business
Origin of occupation
Old French from Classical Latin
occupatio
---
occupation
noun
a. An activity that serves as one's regular source of livelihood; a vocation.

b. An activity engaged in especially as a means of passing time; an avocation.

a. The act or process of holding or possessing a place.

b. The state of being held or possessed.

a. Invasion, conquest, and control of a nation or territory by foreign armed forces.

b. The military government exercising control over an occupied nation or territory.
Origin of occupation
Middle English
occupacioun
from
Old French
occupacion
from
Latin
occupātiō
occupātiōn-
from
occupātus
past participle of
occupāre
to occupy
; see
occupy
.
---
occupation

Origin
From Middle English occupacioun, from Middle French occupation, from Latin occupatio.
---