seizure

sei·zure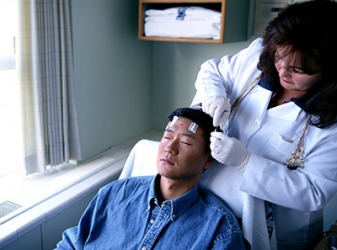 A patient receiving epilepsy monitoring to evaluate his seizures (seizer).
noun
Seizure is defined as the taking of something by force.

An example of seizure is a car being taken by the IRS for very delinquent taxes.

The definition of a seizure is a sudden attack due to disease or other health issue.

An example of a seizure is a body convulsion brought on by epilepsy.
---
seizure
the act of one who seizes, or an instance of this
the state or an instance of being seized

Med.

Archaic

a sudden attack of illness, as a stroke
a sudden surge in electrical brain activity, resulting in convulsions, loss of consciousness, etc.
---
seizure
noun
The act or an instance of seizing or the condition of being seized.
A sudden attack, spasm, or convulsion, as in epilepsy or another disorder.
---
seizure

Noun
(plural seizures)
The act of taking possession, as by force or right of law.

the seizure of a thief, a property, a throne, etc.
The search warrant permitted the seizure of evidence.

A sudden attack or convulsion, (e.g. an epileptic seizure).

He fell to the floor and convulsed when the epilectic seizure occurred.

A sudden onset of pain or emotion.

He felt the sudden seizure of pain as the heart attack began.

That which is seized, or taken possession of; a thing laid hold of, or possessed.
---
seizure - Computer Definition

A signal over a line or trunk between connected equipment indicating a service or access request. The first step in establishing a stable call, a seizure or series of seizures creates a signaling path between the components, allowing supervision signaling. A seizure involves a physical state change in the circuit as a device goes off-hook and the circuit transitions from an idle state to a busy state and current flows, for example. See also line, signal, signaling and control, and trunk.
---
seizure - Legal Definition
n
The act of confiscating a person's property by legal process; a forcible taking of property into custody by a court.
---