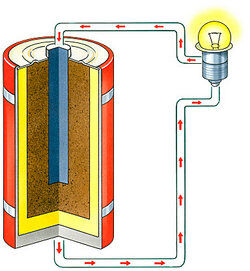 Chemical energy is a form of potential energy that will only be observed when it is released in a chemical reaction. Chemical energy is the energy of chemical bonds and is also stored in atoms and ions.
Interestingly, when chemical energy is released, the substance from which the energy came is often changed into an entirely new substance. Many everyday items store and release chemical energy. Let's take a look at examples of chemical energy to see just how often we interact with this scientific wonder.
9 Examples of Chemical Energy
Chemical energy is either released (exothermic reaction) or absorbed (endothermic reaction) during a chemical reaction. In an exothermic reaction, heat is released, creating warmth. In an endothermic reaction, the heat is absorbed, creating cooling.
Air bags are activated by a chemical reaction inside the bag. A sensor turns on an electrical circuit, and then sodium azide is ignited. The reaction that occurs generates nitrogen gas, which fills the bag at an extremely rapid rate.
Wood, when dry, stores chemical energy. This chemical energy is released as the wood burns, and it is converted into heat, or thermal energy. This also produces light energy. As a result of burning, the wood turns into an entirely new substance - ashes.
Isn't it interesting to see how many types of chemical energy we interact with every day? The very wood we burn and the airbags we face every time we enter a vehicle are examples of chemical energy. This seems like a nice opportunity for a new hypothesis to form.
Looking for more scientific discovery? What do you know about radiant energy? It's energy that travels via waves or particles. These examples of radiant energy will introduce you to the concept. Let the love of science continue!