noun
The definition of fun is something that brings pleasure, joy or playfulness.

An example of fun is dancing with friends.
An example of fun is children playing together at the playground.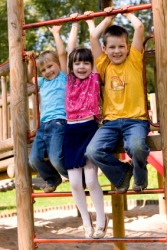 Children having fun at a park.
---
fun definition by Webster's New World
noun
lively, joyous play or playfulness; amusement, sport, recreation, etc.
enjoyment or pleasure

a source or cause of amusement or merriment, as an amusing person or thing
Origin: ; from Middle English fonne, a fool, foolish, or fonnen, to be foolish ; from uncertain or unknown; perhaps
adjective
Informal
intended for, or giving, pleasure or amusement:
a fun gift
Webster's New World College Dictionary Copyright © 2010 by Wiley Publishing, Inc., Cleveland, Ohio. Used by arrangement with John Wiley & Sons, Inc.
---
fun definition by American Heritage Dictionary
noun
A source of enjoyment, amusement, or pleasure.
Enjoyment; amusement: have fun at the beach.
Playful, often noisy, activity.
intransitive verb
funned
funned
,
fun·ning
,
funs
Informal
To behave playfully; joke.
adjective
Informal
Enjoyable; amusing: "You're a real fun guy" (Margaret Truman).
Origin: Possibly from fon, to make a fool of, from Middle English fonnen, to fool, possibly from fonne, fool.
Usage Note:
The use of
fun
as an attributive adjective, as in
a fun time, a fun place,
probably originated in a playful reanalysis of the use of the word in sentences such as
It is fun to ski,
where
fun
has the syntactic function of adjectives such as
amusing
or
enjoyable.
The usage became popular in the 1950s and 1960s, though there is some evidence to suggest that it has 19th-century antecedents, but it can still raise eyebrows among traditionalists. The day may come when this usage is entirely unremarkable, but writers may want to avoid it in more formal contexts.
The American Heritage® Dictionary of the English Language, 4th edition Copyright © 2010 by Houghton Mifflin Harcourt Publishing Company. Published by Houghton Mifflin Harcourt Publishing Company. All rights reserved.
---
fun - Phrases/Idioms
for fun
or
in fun
just for amusement; not seriously
like fun!
Slang
by no means!not at all!: used to express emphatic negation or doubt
make fun of
to mock laughingly; ridicule
for
/in
fun
As a joke; playfully.