noun
The definition of a joke is something said or done for laughter or amusement.

An example of a joke is, "Why did the chicken cross the road?" "To get to the other side."
verb
To joke is defined as to do or say something for fun.

An example of to joke is to play a trick on someone.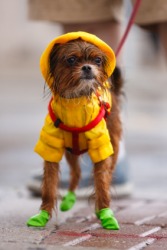 Is this a joke?
---
joke definition by Webster's New World
noun
anything said or done to arouse laughter; specif.,

a funny anecdote with a punch line
an amusing trick played on someone

the humorous element in a situation
a thing done or said merely in fun
a person or thing to be laughed at, not to be taken seriously, because absurd, ridiculous, etc.
Origin: Classical Latin jocus, a joke, game ; from Indo-European base an unverified form jek-, to speak from source Old High German jehan
intransitive verb
joked, joking
to tell or play jokes
to say or do something as a joke; jest
Origin: < jokethe or L jocari, to joke
transitive verb
Now Rare

to make fun of; make (a person) the object of jokes or teasing
to bring to a specified condition by joking
Webster's New World College Dictionary Copyright © 2010 by Wiley Publishing, Inc., Cleveland, Ohio. Used by arrangement with John Wiley & Sons, Inc.
---
joke definition by American Heritage Dictionary
noun
Something said or done to evoke laughter or amusement, especially an amusing story with a punch line.
A mischievous trick; a prank.
An amusing or ludicrous incident or situation.
Informal

a. Something not to be taken seriously; a triviality: The accident was no joke.

b. An object of amusement or laughter; a laughingstock: His loud tie was the joke of the office.
verb
joked
joked
,
jok·ing
,
jokes
verb
, intransitive
To tell or play jokes; jest.
To speak in fun; be facetious.
verb
, transitive
To make fun of; tease.
Origin: Latin iocus; see yek- in Indo-European roots.
Related Forms:
The American Heritage® Dictionary of the English Language, 4th edition Copyright © 2010 by Houghton Mifflin Harcourt Publishing Company. Published by Houghton Mifflin Harcourt Publishing Company. All rights reserved.
---
joke - Phrases/Idioms