gag

GAG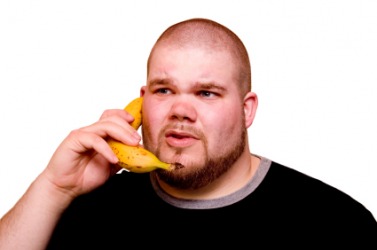 A gag is a joke.
noun
The definition of a gag is a prank or a joke, or something placed over a person's mouth to stop him from making noise, or a restriction that prevents free speech.

A prank where you put a whoopie cushion on someone's chair is an example of a gag.
A balled-up sock stuffed into the mouth of a kidnap victim so he cannot scream is an example of a gag.
When the judge in a high-profile case orders the parties not to talk to the press about the case, this is an example of a gag.
verb
To gag is defined as to choke or wretch, or to prevent someone from speaking.

When you stick your finger down your throat and you start to wretch and vomit, this is an example of a time when you gag.
When you stick a piece of tape over someone's mouth so he cannot scream, this is an example of gag.
---
gag
transitive verb
gagged

,

gag′ging
to cause to retch or choke
to put something over or into the mouth of, so as to keep from talking, crying out, etc.
to keep from speaking or expressing oneself freely, as by intimidation
to prevent or limit speech in (a legislative body)

Mech.

to choke or stop up (a valve, etc.)
Origin of gag
Middle English
gaggen
, of echoic origin, originally
to retch or choke

Informal

to make a gag or gags; joke
something put into or over the mouth to prevent talking, crying out, etc.
any restraint of free speech
a device for holding the jaws open for dental work or for any surgery inside the mouth

a comical remark or act; joke, as one interpolated by an actor on the stage
a practical joke or hoax
---
gag
noun
Something forced into or put over the mouth to prevent speaking or crying out.
An obstacle to or a censoring of free speech.
A device placed in the mouth to keep it open, as in dentistry.

a. A practical joke: played a gag on his roommates.

b.

A comic effect or remark. See Synonyms at

joke

.

The act or an instance of gagging or choking.
verb
gagged, gag·ging, gags
verb
transitive
To prevent from speaking or crying out by using a gag.
To stop or restrain from exercising free speech: censorship laws aimed at gagging the press.
To cause to choke, retch, or undergo a regurgitative spasm.
To keep (the mouth) open by using a dental gag.
To block off or obstruct (a pipe or valve, for example).
verb
intransitive
To experience a regurgitative spasm in the throat, as from revulsion to a food or smell or in reflexive response to an introduced object.
To make jokes or quips: Your friends are always gagging around.
Origin of gag
From
Middle English
gaggen
to suffocate
perhaps of imitative origin
GAG
abbreviation
glycosaminoglycan
---
gag

Abbreviations
group specific antigens
Noun
(plural gags)
A device to restrain speech, such as a rag in the mouth secured with tape or a rubber ball threaded onto a cord or strap.
A joke or other mischievous prank.
A convulsion of the upper digestive tract.
(archaic) A mouthful that makes one retch or choke.

a gag of mutton fat
Verb
(third-person singular simple present gags, present participle gagging, simple past and past participle gagged)
(intransitive) To experience the vomiting reflex.

He gagged when he saw the open wound.

To cause to heave with nausea.
(U.S. Army, slang) To smoke: to order a recruit to exercise until he "gags" (usually spoken in exaggeration).
To restrain someone's speech by blocking his or her mouth.

The victims could not speak because the burglar had gagged them with duct tape.

(figuratively) To restrain someone's speech without using physical means.

When the financial irregularities were discovered, the CEO gagged everyone in the accounting department.

To pry or hold open by means of a gag.
---