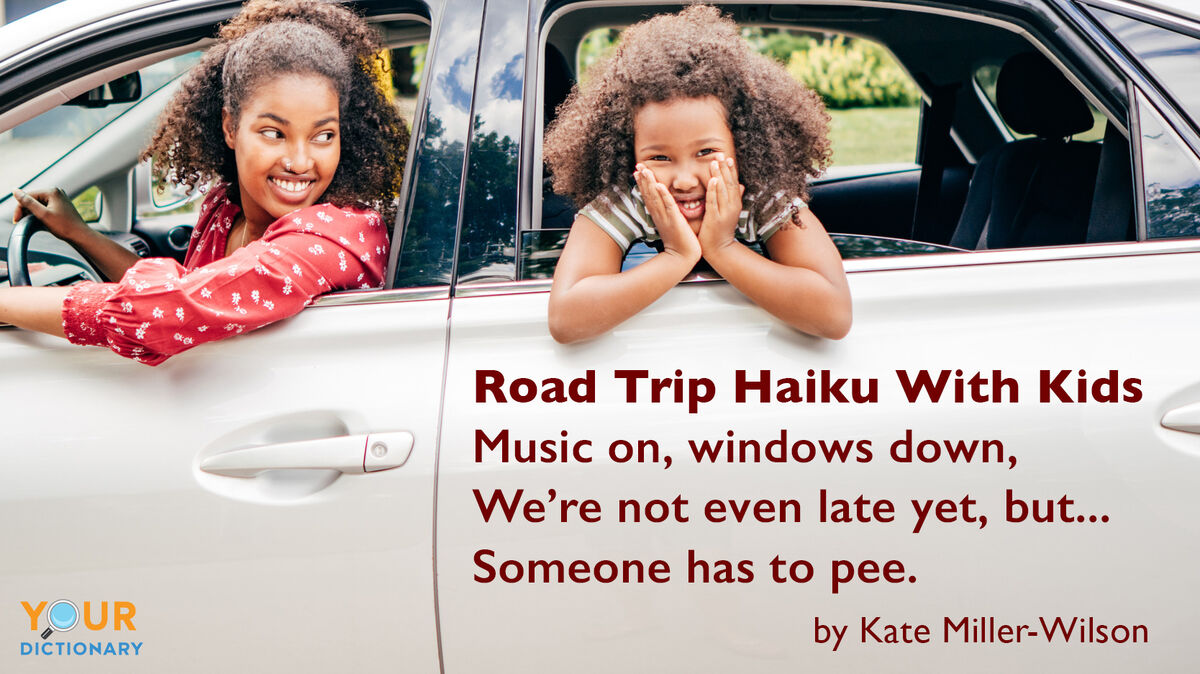 Writing a haiku might be serious business, but funny haiku poems are among the most entertaining poetry you can write. Because the haiku format is so concise, it encourages the writer to get right to the point. If that point is humor, it's a guaranteed laugh. Whether you're five or 105, these hilarious examples written by Kate Miller-Wilson will make you smile.
Good Morning Haiku From the Cat
In the morning light,
You sleep despite my meow.
I stand on your face.
You're so cute, but why
Should I write a haiku for you?
You can't even read.
Road Trip Haiku With Kids
Music on, windows down,
We're not even late yet, but...
Someone has to pee.
I love you so much,
But your love of cheese is wrong.
The smell makes me gag.
Haiku About Writing a Haiku
To end this poem,
I need one more magic line:
Abracadabra!
The T-Rex likes you,
But he can't give you a hug.
His arms are too short.
I'd go to yoga,
But they don't serve donuts there.
Namaste right here.
Funny Haiku About Getting Up
I love my pillow.
My alarm clock is beeping.
No, no, no, no, no.
That's too much bacon.
Please just bring me some kale chips.
Said no one ever.
Haiku for Room Cleaning Motivation
I hid a twenty
In your messy room somewhere.
Just clean to find it.
For your birthday, friend,
I wrote this haiku for you.
Worst present ever.
Haiku About Texting With Mom
Texting with my mom.
I don't think that emoji means
What she thinks it does.
Haiku About Life's Mysteries
I can't help thinking:
Why is "abbreviation"
A very long word?
Traffic is insane.
Can I just go back to bed?
It must be Monday.
Wouldn't it be great
To have Instagram filters
To use in real life?
It's Monday morning;
The coffee maker is dead:
Double depresso.
I know one of you
Is always listening, but
You're so convenient.
Forgot to wash clothes
But there's no time for laundry.
Which t-shirt smells worse?
The joy of sweet corn,
Taste of summer and butter.
I forgot to floss.
I keep wondering:
Why is there only one word
That means "thesaurus."
While you read these funny poems, take a moment to refresh your memory about the rules for haikus. The form of this poem is important. Remember, there are five syllables in the first line, seven in the second line, and five in the third. Because these poems are so short, they offer plenty of room for humor.