funny

fun·ny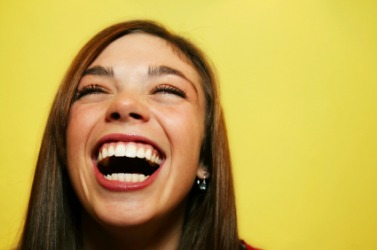 This woman is laughing at something funny.
adjective
Funny is defined as causing laughter or out of the ordinary.

An example of something funny is a joke that makes everyone laugh.
An example of something funny is a fish that smells odd.
noun
The definition of a funny is a joke or something that makes people laugh.

An example of a funny is a comic strip.
---
funny
adjective
-·nier

,

-·ni·est
causing laughter; laughable; amusing; humorous
out of the ordinary, esp. in a puzzling or suspicious way

Informal

peculiar, eccentric, crazy, etc.
Origin of funny
see fun and -y
Informal
in a funny manner
pl.
-·nies
Informal
a joke or witticism
---
funny
adjective
fun·ni·er, fun·ni·est
a. Causing laughter or amusement: a funny cartoon.

b. Making or given to making amusing jokes or witticisms: a colleague who is very funny.

c. Appropriate as the subject of a joke; deserving of a joke. Used in negative sentences to express disapproval or to emphasize the seriousness of something: There is nothing funny about getting the flu.

a. Difficult to account for; unusual or odd: I had a funny feeling that she would call.

b. Suspiciously odd: It's funny how I seem to lose something every time he comes around.

Counterfeit or fraudulent: tried to pass off funny money as legitimate.
Informal Somewhat ill, painful, or abnormal: I felt funny after eating those clams. "a mole on his arm that has started to go funny" ( Ann Cummins )
Informal

a. Offensively forward or disrespectful: She told him off after he started to get funny.

b. Contrary to one's demands or expectations: Don't let the prisoners do anything funny.
noun
pl.
fun·nies
Informal
A joke; a witticism: "He laughed because he did not know I was not making a funny" ( Jonathan Safran Foer )
funnies

a. Comic strips.

b. The section of a newspaper containing comic strips.
Origin of funny
From
fun
Related Forms:
---
funny

Adjective
(comparative funnier, superlative funniest)
amusing; humorous; comical [from the mid-18th c.]

When I went to the circus, I only found the clowns funny.

strange or unusual, often implying unpleasant [from the early 19th c.]

The milk smelt funny so I poured it away.
I've got a funny feeling that this isn't going to work.
Noun
(plural funnies)
(humorous) A joke.
(humorous) A comic strip.
Noun
(plural funnies)
(UK) A narrow boat for sculling.
Origin
Perhaps a jocular use of funny. See above.
---