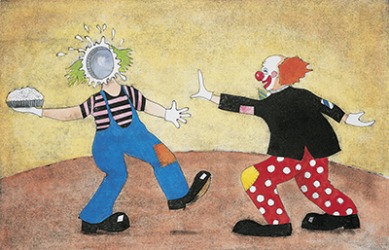 Clown acts often involve slapstick humor such as throwing pies in each others faces.
noun
Slapstick is a kind of comedy based on practical jokes, collisions, clumsiness and embarrassing events.

An example of slapstick is comedy performed by the television characters called the Three Stooges where people get poked in the eye or pies in the face.
---
slapstick
an implement made of two flat pieces of wood that slap together loudly when hit against something: sometimes used by clowns to strike others with loud, harmless slaps
crude comedy in which the humor depends upon violent activity, horseplay, etc.
characterized by such comedy
---
slapstick
noun
A boisterous form of comedy marked by sight gags and absurd or violent mishaps or pranks, such as slipping on a banana peel.
A paddle designed to produce a loud whacking sound, formerly used by performers in farces.
---
slapstick

Noun
(countable and uncountable, plural slapsticks)
(uncountable) physical comedy, e.g. slipping on a banana peel, exaggeratedly losing balance, walking into walls etc.
(countable) a pair of sticks tied together at one end and used to create a slapping sound effect for (1)
---