slap

slap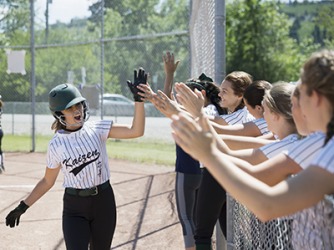 Katie slapped hands with everyone on her team after she hit a home run.
adverb
Slap means done directly and in a hasty way.

An example of slap used as an adverb is in the sentence, "She backed up slap into that car," which means that she backed right into the car.
noun
The definition of a slap is a smack, or an insult.

An example of a slap is a cruel joke about someone's job.
verb
Slap is defined as to smack or do without care, or to make a sharp noise.

An example of slap is to throw together a messily science project at the last minute.
An example of slap is for the rain to pound the ground.
---
slap
a blow or smack, esp. with something flat, specif. the palm of the hand
the sound of this, or a sound like it

an injury to pride, self-respect, etc., as an insult or rebuff
Origin of slap
Low German
sklapp
: of echoic origin, originally
transitive verb
slapped

,

slap′ping
to strike with something flat, specif. the palm of the hand
to put, throw, hit, etc. carelessly or with force: to slap a hat on one's head

Informal

to penalize (a person, business, etc.) with a fine, lawsuit, etc.
to impose (a fine, etc.) on a person, business, etc.
to make a sudden, sharp noise, as upon impact
Informal
directly and abruptly:
I ran slap into the wall
slap down
Informal
to rebuke, suppress, or rebuff harshly
---
slap
noun
a. A sharp blow made with the open hand or with a flat object; a smack.

b. The sound of such a blow.

A sharp insult: a slap to one's pride.
verb
slapped, slap·ping, slaps
verb
transitive
To strike with the palm of the hand or a flat object: slapped him in the face.
To cause to strike forcefully and loudly: "He took a clipping from his wallet and slapped it on the bar" ( Nathanael West )
To put or place quickly or carelessly: slapped butter on a bagel.

a. To subject to a legal obligation, such as a fine or court order: slapped him with a speeding ticket; slapped her with a lawsuit.

b. To impose (a legal obligation) on someone: The judge slapped an additional fine on the unruly defendant.
verb
intransitive
To strike or beat with the force and sound of a slap: waves slapping against the raft.
adverb
Informal
Directly and with force: drove slap into the guardrail.
Phrasal Verbs:
slap down
To restrain or correct by emphatic censure; rebuke:
"thought

[he]

was getting a little uppity and needed to be slapped down"
(
New York Times
)
Origin of slap
Middle English
slappe
Related Forms:
---
slap

Noun
(plural slaps)
A blow, especially one given with the open hand, or with something broad and flat.
The sound of such a blow.
Usage notes
Especially used of blows to the face (aggressive), buttocks, and hand, frequently as a sign of reproach. Conversely, used of friendly strikes to the back, as a sign of camaraderie.
Verb
(third-person singular simple present slaps, present participle slapping, simple past and past participle slapped)
To give a slap.

She slapped him in response to the insult.

To cause something to strike soundly.

He slapped the reins against the horse's back.

To place, to put carelessly.

We'd better slap some fresh paint on that wall.
Origin
Uncertain, probably from imitative origin.
---