pat

pat.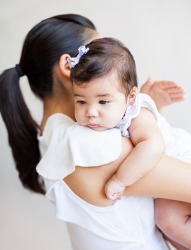 A mom gently pats her baby's back.
noun
The definition of a pat is a light gentle tap.

An example of a pat is tapping your friend on the back with your hand to tell them they did a good job.
---
pat
apt; timely; opportune
exactly suitable
so glibly plausible as to seem contrived
designating a poker hand to which no cards are drawn because of the unlikelihood of improving it
Origin of pat
probably from pat
have (down) pat
Informal
to know or have memorized thoroughly
stand pat
Poker

to draw no further cards and play the hand as dealt

Informal

to refuse to turn aside from an opinion, course of action, etc.
a quick, gentle tap, touch, or stroke with the hand or some flat object
the sound made by this
a small lump or mass, as of butter
a mass of animal dung
Origin of pat
Middle English
patte,
probably echoic
transitive verb
pat′ted

,

pat′ting
to tap, touch, or stroke quickly or gently, esp. with the hand, as in affection, sympathy, or encouragement
to tap or stroke lightly with something flat

to flatten, shape, apply, etc. by patting
to pat a surface
to move along with a patting sound, as in running
pat on the back
a compliment or encouragement
to compliment or praise
PAT
Origin of PAT
p(oint) a(fter) t(ouchdown)
conversion (sense )
---
pat
verb
pat·ted, pat·ting, pats
verb
transitive
a. To tap gently with the open hand or with something flat.

b.

To stroke lightly as a gesture of affection. See Synonyms at

caress

.

To mold by tapping gently with the hands or a flat implement.
verb
intransitive
To run or walk with a tapping sound.
To hit something or against something gently or lightly.
noun
A light gentle stroke or tap.
The sound made by a light stroke or tap or by light footsteps.
A small mass shaped by or as if by patting: a pat of butter.
Origin of pat
From
Middle English
a blow
perhaps of imitative origin
adjective
a. Suitable; fitting: "Suggestions about her reasons for going are made indirectly, lightly and ambiguously; no pat explanation is offered" ( Janna Malamud Smith )

b. Fitting or satisfactory in a superficial or contrived way, especially in being trite or glib: "The dialogue is sometimes stilted and the ending too pat" ( Leonard Malkin )

Games Being a poker hand that is strong enough to make drawing cards unlikely to improve it.
adverb
Informal
Readily or perfectly as a result of memorization or familiarization: They've got the system down pat. He has the lesson pat.
Origin of pat
From
pat
1
Related Forms:
PAT
abbreviation
point after touchdown
pat.
---
pat

---
pat - Computer Definition
(Port Address Translation) The most common way network address translation is implemented (see NAT). Also called "NAT overloading," "network address port translation" (NAPT) and "NAT/PAT." PAT assigns a different TCP port number to each client session with a server on the Internet. When responses come back from that server, the source port number becomes the destination port number and determines which user to route the packets to. It also validates that the incoming packets were indeed requested. See NAT traversal, UDP hole punching, private IP address, RSIP and proxy server.
---