dab

dab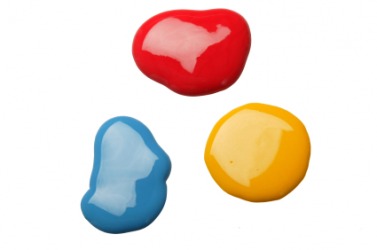 Dabs of red, blue and yellow paint.
noun
The definition of a dab is a quick touch or pat.

An example of a dab is a drop of red paint.
verb
Dab is defined as lightly touching, or adding a bit of moisture.

An example of dab is to gently dip the end of a paper towel into water.
---
dab
transitive verb
intransitive verb
dabbed

,

dab′bing
to touch or stroke lightly and quickly
to pat with something soft or moist
to put on (paint, etc.) with light, quick strokes
Origin of dab
Middle English
dabben
, to strike, akin to Middle Dutch
dabben
and Norwegian
dabba
from uncertain or unknown; perhaps Indo-European base an unverified form
dhabh-
, to strike
a light, quick stroke; tap; pat
a small, soft or moist bit of something: a dab of lip gloss
any of several flounders (esp. Limanda proboscidea) of coastal waters
any small flatfish
Origin of dab
Middle English
dabbe
from uncertain or unknown; perhaps
Brit., Informal
an expert; dab hand
DAB
Dictionary of American Biography
---
dab
verb
dabbed, dab·bing, dabs
verb
transitive
To apply with short poking strokes: dabbed some paint on the worn spots.
To cover lightly with or as if with a moist substance: dabbed the back of the fabric with glue.

a. To rub or pat (something) lightly: dabbed his eye with the corner of his sleeve.

b. To press (something) lightly against an object or surface: dabbed a napkin to her lips.

c. To remove or brush away with light strokes: dabbed the tears from the child's eyes.
verb
intransitive
To make light patting or stroking motions: dabbed at the wound with a piece of gauze.
noun
A small amount: a dab of jelly.
A quick light pat.
Origin of dab
Middle English
dabben
to strike
noun
Any of various flatfishes, especially the edible Limanda limanda of northeast Atlantic waters.
Origin of dab
Middle English
dabbe
noun
Chiefly British
A dab hand.
Origin of dab
Origin unknown
---
dab

Verb
(third-person singular simple present dabs, present participle dabbing, simple past and past participle dabbed)
To press lightly in a repetitive motion with a soft object without rubbing.

I dabbed my face with a towel.

To apply a substance in this way.

He dabbed moisturizing liquid on his face.

To strike by a thrust; to hit with a sudden blow or thrust.
Origin
From Middle English dabben ("to strike"), cognate with Middle Dutch dabben ("to pinch, knead, fumble, dabble") (Dutch dabben ("(of a horse) to stamp with the forelegs")), Dutch deppen ("to dab"), German tappen ("to fumble, grope"). The noun is from Middle English dabbe ("a strike, blow"), from the verb. Related to tap.
Origin
Perhaps corrupted from adept.
Noun
(plural dabs)
A small flatfish of the family Pleuronectidae, especially Limanda limanda; a flounder.
(US) A sand dab, a small flatfish of genus Citharichthys.
Initialism
digital audio broadcasting
Democratic Alliance for the Betterment of Hong Kong (a pro-Beijing political party in the HKSAR)
---
dab - Computer Definition
(Digital Audio Broadcasting) The digital radio standard in most countries except for the U.S., which uses iBiquity's HD Radio, and Japan, which uses Terrestrial Integrated Services Digital Broadcasting (ISDB-T). Developed by the Eureka 147 Project in Europe, DAB uses frequencies from 175 to 239 MHz and 1.45 to 1.49 GHz. DAB+, which is backward compatible with DAB, is based on the aacPlus Version 2 digital audio standard (see aacPlus). For more information, visit the World DAB Forum at www.worlddab.org. See HD Radio and mobile TV.
DAB+
---