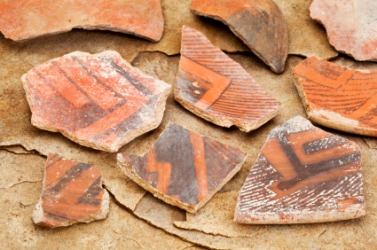 Fragments of ancient pottery.
noun
Fragment is defined as a piece of something that wasn't finished.

An example of a fragment is an unfinished letter.

The definition of a fragment is a small piece of something larger.

An example of a fragment is a piece of pottery found in a digging site.
An example of a fragment is a few beats of a song.
verb
Fragment means to break something into smaller pieces.

An example of fragment is to break a cookie up into pieces to share.
---
fragment
a part broken away from a whole; broken piece
a detached, isolated, or incomplete part: a fragment of a song
the part that exists of a literary or other work left unfinished
Origin of fragment
Middle English from Classical Latin
fragmentum
from
frangere
, break
to break into fragments; break up
---
fragment
noun
A small part broken off or detached.
An incomplete or isolated portion; a bit: overheard fragments of their conversation; extant fragments of an old manuscript.
Grammar A sentence fragment.
verb
frag·ment·ed, frag·ment·ing, frag·ments
verb
transitive
To break or separate (something) into fragments.
verb
intransitive
To become broken into fragments: After the election, the coalition fragmented.
Origin of fragment
Middle English
from
Latin
fragmentum
from
frangere
frag-
to break
; see
bhreg-
in Indo-European roots.
---
fragment

Noun
(plural fragments)
A part broken off; a small, detached portion; an imperfect part; as, a fragment of an ancient writing.
(grammar) A sentence not containing a subject or a predicate.
(computing)
Verb
(third-person singular simple present fragments, present participle fragmenting, simple past and past participle fragmented)
(intransitive) To break apart.
To cause to be broken into pieces.
---
fragment - Computer Definition
(1) In networking, one piece of a data packet that has been broken into smaller pieces in order to accommodate the maximum transmission unit (MTU) size of a network. See IP fragmentation.
(2) In a disk file system, a part of a file that is located elsewhere on the disk (not contiguous with the rest of the file). See fragmentation.
(3) In computer graphics, a pixel that has been transformed from its original state and is ready to update the frame buffer. See fragment processor.
---