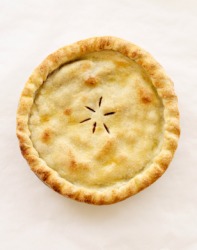 A whole cherry pie.
adjective
The definition of whole is something that is complete or the entire amount.

An example of whole is a whole pie, a pie without any pieces cut from it.
An example of whole is a being gone a whole year, being away from home for an entire year.
---
whole
in sound health; not diseased or injured

Archaic

healed: said of a wound

not broken, damaged, defective, etc.; intact: a whole yolk
containing all the elements or parts; entire; complete: a whole set, whole blood
not divided up; in a single unit: a whole cheese
constituting the entire amount, extent, number, etc.: the whole night
having both parents in common: a whole brother
in all aspects of one's being, including the physical, mental, social, etc.: the whole man

Arith.

integral and not mixed or fractional: 28 is a whole number
Origin of whole
Middle English (Midland)
hool
, for
hol
,
hal
from Old English
hal
, healthy, whole, hale: akin to German
heil
, Old Norse
heill
from Indo-European base an unverified form
kailo-
, sound, uninjured, auspicious from source Welsh
coel
, omen
Informal
completely; absolutely:
a whole new ballgame
the entire amount, quantity, extent, or sum; totality: the whole of the estate
a thing complete in itself, or a complete organization of integrated parts; a unity, entirety, or system
as a whole
as a complete unit; altogether
a whole lot of
Informal
very many:
they ate a whole lot of hamburgers
made up out of whole cloth
entirely imagined or fabricated; with no basis in fact
Origin of whole
<
whole cloth
, cloth as manufactured, before it is trimmed
on the whole
all things considered; in general
---
whole
adjective
a. Containing all components; complete: the whole series of novels.

b. Not divided or disjoined; in one unit: a whole loaf.

c. Constituting the full amount, extent, or duration: The baby cried the whole trip home.

a. Not wounded, injured, or impaired; sound or unhurt: Many escaped the fire frightened but whole.

b. Having been restored; healed: After the treatment he felt whole.

Having the same parents: a whole sister.
noun
A number, group, set, or thing lacking no part or element; a complete thing.
An entity or system made up of interrelated parts: The value of the whole was greater than the sum of its parts.
adverb
Informal
Entirely; wholly: a whole new idea.
Origin of whole
Middle English
hole
unharmed
from
Old English
hāl
; see
kailo-
in Indo-European roots.
Related Forms:
---
whole

---