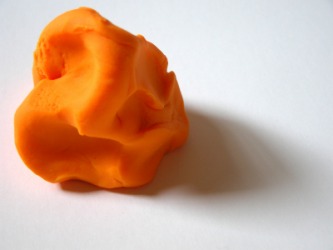 A lump of orange clay.
noun
The definition of a lump is a mass of stuff with no definite shape, a swelling underneath the skin or to a person who is dull-witted.

A pile of clay that is piled or stuck together with no definitive form is an example of a lump of clay.
When a tumor under the skin causes an area of your skin to swell, this is an example of a lump.
An unintelligent person is an example of a lump.
verb
To lump is defined as to group things together, even if they don't necessarily all belong together.

When you meet one person and decide his whole family is just like him, this is an example of a situation where you lump the family together.
---
lump
a solid mass of no special shape, esp. one small enough to be taken up in the hand; hunk

a small cube or oblong piece
such a cube or piece made of sugar crystals bound together with sugar syrup

a swelling or protuberance, as one caused by a blow or formed by a tumor or cyst

Obs.

aggregate or collection
a great mass, amount, number, etc.

a dull, clodlike person
[pl.]

Informal

hard blows, punishment, criticism, or the like: usually in get (or take) one's lumps or give someone his (or her) lumps
Origin of lump
Middle English
lompe, lumpe
, akin uncertain or unknown; perhaps to Danish
lompe
, a mass, lump, Swedish dialect, dialectal
lump
, a block, stump, Middle High German
lumpe
, rag: see limp
forming or formed into a lump or lumps: lump sugar
to put together in a lump or lumps
to treat or deal with in a mass, or include in one group
to make lumps in
to become lumpy
to move heavily and laboriously: usually with along
in the lump
in the mass or aggregate; all together
lump in one's throat
a tight feeling in the throat, as from restrained emotion
Informal
(like it or) lump it
, to (willingly or) unwillingly have to put up with something disagreeable
Origin of lump
Early ModE, to look sour from uncertain or unknown; perhaps lump, but influenced, influence by grump, mump
---
lump
noun
An irregularly shaped mass or piece.
A small cube of sugar.
Medicine A swelling or small palpable mass.
A collection or totality; an aggregate.
A person regarded as ungainly or dull-witted.
lumps Informal

a. Severe punishment or treatment, as a beating or an unsparing criticism: take one's lumps.

b. One's just deserts; comeuppance: get one's lumps.
adjective
Formed into lumps: lump sugar.
Not broken or divided into parts: a lump payment.
verb
lumped, lump·ing, lumps
verb
transitive
To put together in a single group without discrimination.
To move with heavy clumsiness.
To make into lumps.
verb
intransitive
To become lumpy.
To move heavily.
Origin of lump
Middle English
lumpe
of Low German origin
obsolete Dutch
lompe
transitive verb
lumped, lump·ing, lumps
Informal
To tolerate (what must be endured): like it or lump it.
Origin of lump
Perhaps from
dialectal
lump
to look sullen
---
lump

Noun
(plural lumps)
Something that protrudes, sticks out, or sticks together; a cluster or blob; a mound, hill, or group.

Stir the gravy until there are no more lumps.
a lump of coal; a lump of clay; a lump of cheese

A small, shaped mass of sugar, typically about a teaspoonful.

Do you want one lump or two with your coffee?

A dull or lazy person.

Don't just sit there like a lump.

(informal, as plural) A beating or verbal abuse.

He's taken his lumps over the years.

A projection beneath the breech end of a gun barrel.
Verb
(third-person singular simple present lumps, present participle lumping, simple past and past participle lumped)
To treat as a single unit; to group together.

People tend to lump turtles and tortoises together, when in fact they are different creatures.
---