hill
hill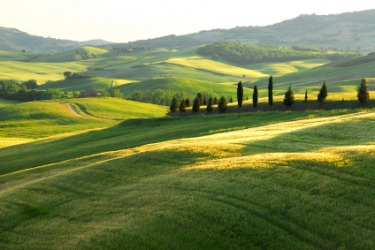 Rolling hills in Tuscany
noun
The definition of a hill is a small mound, pile or rounded part of earth.

An example of a hill is a location for sledding.
verb
Hill is defined as to form or cover with a small mound or pile.

An example of hill is to form a tiny mountain of sand.
---
hill
a natural elevation of the earth's surface, typically rounded and smaller than a mountain
a chain or group of such elevations
a small pile, heap, or mound: an anthill

a small mound of soil heaped over or around plants and tubers: a hill of potatoes
the plant or plants rooted in such a mound

⌂

Slang, Baseball

the pitcher's mound: with the
Origin of hill
Middle English ; from Old English
hyll
, akin to Middle Dutch
hille
; from Indo-European base an unverified form
kel-
, to project, rise high from source Classical Latin
collis
, hill, Classical Greek
koloph?n
, peak
to shape into or like a hill
to cover with a hill (sense )
over the hill
Informal
absent without permission; AWOL
in one's decline
Hill
1838-1916; U.S. railroad magnate & financier, born in Canada
---
hill
noun
A well-defined natural elevation smaller than a mountain.
A small heap, pile, or mound.

a. A mound of earth piled around and over a plant.

b. A plant thus covered.

An incline, especially of a road; a slope.
Hill

a. Capitol Hill. Often used with the.

b. The US Congress. Often used with the.
transitive verb
hilled
,
hill·ing
,
hills
To form into a hill, pile, or heap.
To cover (a plant) with a mound of soil.
Origin of hill
Middle English
hil
, from Old English
hyll
; see
kel-
2
in Indo-European roots.
Related Forms:
---
hill
---