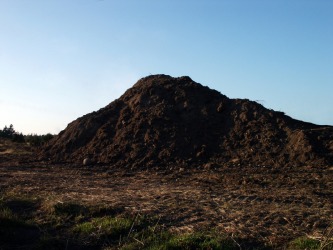 A big mound of dirt.
noun
The definition of a mound is a thick quantity or pile of something, or is a raised area of land or other items that protrude from the ground.

An elevated pitch of land that a pitcher stands on in baseball when he throws the ball is an example of a pitcher's mound.
A small hill made of rocks and dirt that you can climb is an example of a mound.
When a company tries to hide its failing products and stop its declining sales by simply throwing excessive amounts of money at the problems, this is an example of a time when the company uses mounds of cash to try to resolve its issues.
---
mound
a heap or bank of earth, sand, etc. built over a grave, in a fortification, etc.
a natural elevation like this; small hill
any heap or pile

Baseball

the slightly raised area on which the pitcher stands when pitching
Origin of mound
probably from Middle Dutch
mond,
protection, akin to Old Norse
mund,
hand: see manual
Archaic

to enclose or fortify with a mound
to heap up in a mound
orb (noun)
Origin of mound
French
monde
from Classical Latin
mundus,
the world
---
mound
noun
A pile of earth, gravel, sand, rocks, or debris heaped for protection or concealment.
A natural elevation, such as a small hill.
A group of things collected in a mass or heap: found his keys in a mound of laundry. See Synonyms at heap.
often mounds A great deal; a lot: has mounds of homework to finish.
Archaeology A large artificial pile of earth or stones often marking a burial site.
Baseball The slightly elevated pitcher's area in the center of the diamond.
Archaic A hedge or fence.
transitive verb
mound·ed, mound·ing, mounds
To heap into a raised mass: mounded the dirt around the plants.
Origin of mound
Origin unknown
---
mound

Verb
(third-person singular simple present mounds, present participle mounding, simple past and past participle mounded)
To fortify with a mound; add a barrier, rampart, etc. to.
To force or pile into a mound or mounds.

He mounded up his mashed potatoes so they left more space on the plate for the meat.
Origin
From earlier meaning "hedge, fence", from Middle English mound, mund ("protection, boundary, raised earthen rampart"), from Old English mund ("hand, hand of protection, protector, guardianship"), from Proto-Germanic *mundō ("hand"), *munduz ("protection, patron"), from Proto-Indo-European *men-, *man-, *mar- ("hand"). Cognate with Old Frisian mund ("guardianship"), Old High German munt ("hand, protection") (German Mündel ("ward"), Vormund ("a guardian")), Old Norse mund (Icelandic mund, "hand")), Middle Dutch mond ("protection"), Latin manus ("hand"), Ancient Greek μάρη (márē, "hand").
---