depression

de·pres·sion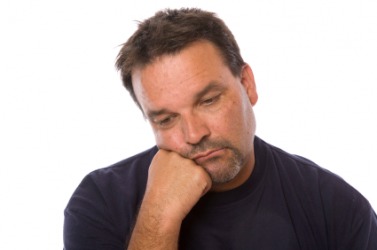 A man suffering with depression.
noun
Depression is defined as a state of sadness, a low place on a surface or an extended period of economic recession.

An example of depression is when you feel sad all the time.
An example of depression is the indentation made by a thumb in a piece of soft clay.
An example of depression is when an economic recession has gone on for a long time.
---
depression
a depressing or being depressed
a depressed part or place; hollow or low place on a surface
low spirits; gloominess; dejection; sadness
a decrease in force, activity, amount, etc.

Astron.

the angular distance of a celestial body below the horizon

Econ.

a period or condition marked by slackening of business activity, widespread unemployment, falling prices and wages, etc.

Med.

a decrease in functional activity

Meteorol.

a lowering of the atmospheric pressure indicated by the fall of mercury in a barometer
an area of relatively low barometric pressure; low

Psychol.

an emotional condition, either neurotic or psychotic, characterized by feelings of hopelessness, inadequacy, etc.

Surveying

the angular distance of an object below the horizontal plane
Origin of depression
Middle English
depressioun
from Old French
depression
from Classical Latin
depressio
: see depress
the (Great) Depression
the period of economic depression which began in 1929 and lasted through most of the 1930s
---
depression
noun
a. The act of depressing.

b. The condition of being depressed.

An area that is sunk below its surroundings; a hollow.
The condition of feeling sad or despondent.
A mood disorder characterized by persistent sadness or inability to experience pleasure combined with other symptoms including poor concentration, indecisiveness, sleep problems, changes in appetite, and feelings of guilt, helplessness, and hopelessness. Also called clinical depression . Also called major depressive disorder .
A lowering or reduction, as:

a. A reduction in physiological vigor or activity: a depression in respiration.

b. A lowering in amount, degree, or position: depression of stock prices.

a. A period of drastic economic decline, characterized by decreasing aggregate output, falling prices, and rising unemployment.

b. A period of widespread poverty and high unemployment.

Meteorology A region of low barometric pressure.
The angular distance below the horizontal plane through the point of observation.
Astronomy The angular distance of a celestial body below the horizon.
---
depression

Noun
(countable and uncountable, plural depressions)
(geography) an area that is lower in topography than its surroundings
(psychology) in psychotherapy and psychiatry, a state of mind producing serious, long-term lowering of enjoyment of life or inability to visualize a happy future

I used to suffer from depression, but now I'm mostly content with my life.

(psychology) in psychotherapy and psychiatry, a period of unhappiness or low morale which lasts longer than several weeks and may include ideation of self-inflicted injury or suicide
(meteorology) an area of lowered air pressure that generally brings moist weather, sometimes promoting hurricanes and tornadoes
(economics) a period of major economic contraction;
(economics, US) Four consecutive quarters of negative, real GDP growth. See NBER.

The Great Depression was an event in US history.

(biology, physiology) a lowering, in particular a reduction in a particular biological variable or the function of an organ, in contrast to elevation
Origin
From Old French depression, from Latin depressio.
---
depression - Investment & Finance Definition
An economic situation that is characterized by decreased business activity, high unemployment, and falling prices. Depressions are relatively infrequent occurrences in the United States. The most famous depression is the Great Depression that began with the collapse of the U.S. stock market in 1929 and continued until 1942, when production activity picked up to meet the demand for goods during World War II.
---