depressed

de·pressed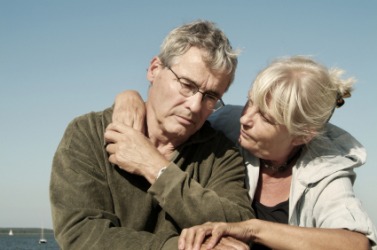 A depressed man is comforted by his wife.
adjective
The definition of depressed is someone in a sad or unhappy state, or something that has been pushed down.

A person who cannot shake his sadness and who has to take Prozac is an example of someone who is depressed.
When the economy is struggling due to high unemployment rates and lack of consumer confidence, this is an example of a depressed economy.
---
depressed
pressed down
lowered in position, intensity, amount, or degree
flattened or hollowed, as if pressed down
gloomy; dejected; sad
suffering from psychological depression
characterized by widespread unemployment, poverty, lack of opportunity, etc.; impoverished: a depressed area

Bot.

flattened, as if from downward pressure

Zool.

having the horizontal diameter longer than the vertical; broad
---
depressed
adjective
a. Feeling or characterized by sadness or dejection: depressed after losing her job; a depressed mood.

b. Affected with depression as a mood disorder.

Sunk below the surrounding region: the depressed center of a crater.
Lower in amount, degree, or position: Oil reserves were at depressed levels because of increasing industrial demands.

a. Sluggish in growth or activity: a depressed sector of the economy.

b. Suffering from social and economic hardship: a depressed region.

Botany Flattened downward, as if pressed from above.
Zoology Flattened along the dorsal and ventral surfaces.
---
depressed

Verb
simple past tense and past participle of depress
Adjective
(comparative more depressed, superlative most depressed)
unhappy, and blaming oneself rather than others; despondent
Suffering from clinical depression.
Suffering damaging effects of economic recession.
---