excited

ex·cit·ed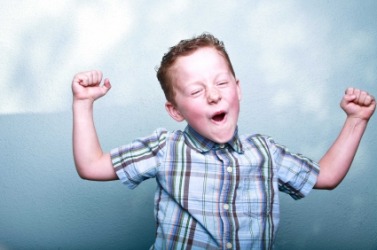 An excited little boy.
adjective
The definition of excited is someone or something that has enthusiasm or is emotionally aroused.

An example of excited is a barking dog when the mailman comes to the door.
verb
Excited is defined as making someone feel emotions, or having an increased activity level.

A play with lots of sex and violence is an example of something that excited the audience.
Protestors and police are an example of people who were excited.
---
excited
emotionally aroused; agitated

Physics

in a state of excitation
---
excited
adjective
Being in a state of excitement; emotionally aroused; stirred.
Physics Being at an energy level higher than the ground state.
Related Forms:
---
excited

Adjective
(comparative more excited, superlative most excited)
Having great enthusiasm.

He was very excited about his promotion.

(physics) Being in a state of higher energy.

The excited electrons give off light when they drop to a lower energy state.

Having an erection; erect.
Verb
past participle of excite
---