adjective
The definition of excited is someone or something that has enthusiasm or is emotionally aroused.

An example of excited is a barking dog when the mailman comes to the door.
verb
Excited is defined as making someone feel emotions, or having an increased activity level.

A play with lots of sex and violence is an example of something that excited the audience.
Protestors and police are an example of people who were excited.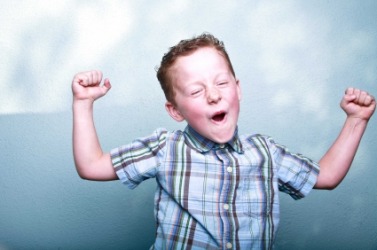 An excited little boy.
---
excited definition by Webster's New World
adjective
emotionally aroused; agitated

Physics

in a state of excitation
Webster's New World College Dictionary Copyright © 2010 by Wiley Publishing, Inc., Cleveland, Ohio. Used by arrangement with John Wiley & Sons, Inc.
---
excited definition by American Heritage Dictionary
adjective
Being in a state of excitement; emotionally aroused; stirred.
Physics Being at an energy level higher than the ground state.
Related Forms:
excited
Variant of excite
transitive verb
excited, exciting
to put into motion or activity; stir up: tapping on the hive excited the bees
to call forth; arouse; provoke: the rumors excited her curiosity
to arouse the feelings or passions of: the news excited us

Elec.

to supply electric current to (the field winding of a motor, generator, or other device); also, to produce in this way a magnetic field in
to supply a signal to (any stage of a vacuum-tube or transistor circuit)

Physics

to raise (a nucleus, atom, etc.) to a higher energy state

Physiol.

to produce or increase the response of (an organism, organ, tissue, etc.) to a proper stimulus
Origin: Middle English exciten ; from Old French exciter ; from Classical Latin excitare, to call forth, excite, frequentative of exciere, to call forth ; from ex-, out plush past participle of ciere, to call, summon: see cite