nonchalant

non·cha·lant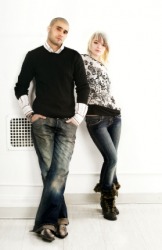 A nonchalant couple.
adjective
The definition of nonchalant is not showing interest.

An example of nonchalant is the response "whatever."
---
nonchalant
without warmth or enthusiasm; showing cool lack of concern; casually indifferent
Origin of nonchalant
French from
non
(L
non
), not +
chaloir
, to care for from Classical Latin
calere
, to be warm or ardent: see calorie
---
nonchalant
adjective
Casually unconcerned or indifferent. See Synonyms at
cool
.
Origin of nonchalant
French
from
Old French
present participle of
nonchaloir
to be unconcerned
non-
non-
chaloir
to cause concern to
(
from
Latin
calēre
to be warm, heat up
; see
kelə-
1
in Indo-European roots.)
Related Forms:
---
nonchalant

---