anxious

anx·ious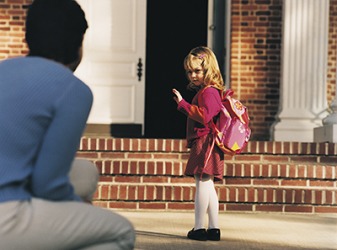 The anxious child waved goodbye to her mother on her first day of kindergarten.
adjective
Anxious is defined as someone who feels uneasy or excessively nervous.

An example of someone who is anxious is a Kindergartner on the first day of school.

The definition of anxious is someone who is apprehensive or concerned in anticipation of an event.

An example of someone who is anxious is a person who is starting a new job.
---
anxious
having or showing anxiety; uneasy in mind; apprehensive; worried
causing or full of anxiety: an anxious hour
eagerly wishing: anxious to do well
Origin of anxious
Classical Latin
anxius
from
angere
, to choke, give pain from Indo-European base an unverified form
angh-
: see anger
---
anxious
adjective
Uneasy and apprehensive about an uncertain event or matter; worried.
Attended with, showing, or causing anxiety: spent an anxious night waiting for the test results.
Usage Problem Eagerly or earnestly desirous.
Origin of anxious
From
Latin
ānxius
from
angere
to torment
; see
angh-
in Indo-European roots.
Related Forms:
Usage Note: Anxious has a long history of use as a synonym for eager, but some prefer that anxious be used only to describe those who are worried or uneasy, as in the sentence He's anxious about his upcoming surgery. The acceptability of anxious to mean eager has been increasing, however. In our 1999 survey of the Usage Panel, 47 percent approved of the sentence We are anxious to see the new show of British sculpture at the museum, whereas in 2014, this sentence was acceptable to 57 percent of panelists. The acceptability was higher for this usage in a sentence about a situation with a tinge of uneasiness: After a four-hour bus ride, the children were anxious to get outside (acceptable to 69 percent of the Panel in 1999 and 78 percent in 2014). Although resistance to the use of anxious to mean eager is waning, writers should be aware that there are still those who frown upon using the word in situations where no anxiety is present.
---
anxious

Adjective
(comparative anxiouser or more anxious, superlative anxiousest or most anxious)
Full of anxiety or disquietude; greatly concerned or solicitous, especially respecting something future or unknown; being in painful suspense;—applied to persons; as, anxious for the issue of a battle.

I could tell she was anxious as she was biting her nails.

Accompanied with, or causing, anxiety; worrying;—applied to things; as, anxious labor.
Earnestly desirous; as, anxious to please.

All the voters were anxious to hear the election result.
Usage notes
Anxious is followed by for, about, concerning, etc., before the object of solicitude.
---