peaceful

peace·ful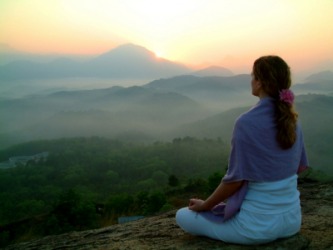 A peaceful moment.
adjective
The definition of peaceful is someone or something that is calm, non-violent or friendly.

An example of peaceful is a person in deep meditation.
An example of peaceful is a quiet protest.
---
peaceful
not quarrelsome; peaceable
characterized by peace; free from disturbance or disorder; calm; quiet; tranquil
of or characteristic of a time of peace
---
peaceful
adjective
Undisturbed by strife, turmoil, or disagreement; tranquil: a peaceful hike through the forest. See Synonyms at calm.
Inclined or disposed to peace; peaceable: a peaceful solution to the dispute.
Not involving violence or employing force: a peaceful protest.
Related Forms:
---
peaceful

Adjective
(comparative peacefuller or more peaceful, superlative peacefullest or most peaceful)
Motionless and calm.
peace offering
peace officer
---