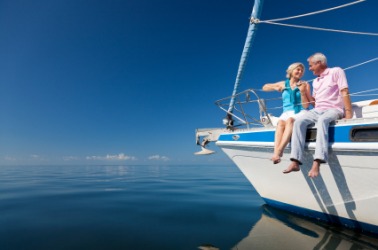 A serene moment.
adjective
The definition of serene is untroubled, or is the title for a high-ranking member of royalty.

An example of something serene is a calm day spent floating in a boat.
The sleeping cat is an example of something serene.
Referring to Queen Elizabeth as Her Serene Highness is an example of serene.
---
serene
clear; bright; unclouded: a serene sky
not disturbed or troubled; calm, peaceful, tranquil, etc.
[S-] exalted; high-ranking: used in certain royal titles: his Serene Highness
Origin of serene
Classical Latin
serenus
from Indo-European an unverified form
ksero-
, dry (from source Classical Greek
x?ros
, dry, Old High German
seraw?n
, to dry out) from base an unverified form
ks?-
, to burn
Old Poet.
a serene expanse, as of sky or water
---
serene
adjective
Content or composed; untroubled: "She remained serene in the face of her accusers" ( Peter Matthiesen )
Unaffected by disturbance; calm or peaceful: a serene forest. See Synonyms at calm.
Unclouded; fair: serene skies and a bright blue sea.
often Serene Used as a title and form of address for certain members of royalty: Her Serene Highness; His Serene Highness.
Origin of serene
Middle English
from
Latin
serēnus
serene, clear
Related Forms:
---
serene

Adjective
(comparative more serene or serener, superlative most serene or serenest)
Without worry or anxiety; unaffected by disturbance.
Used as part of certain titles.

Her Serene Highness
Verb
(third-person singular simple present serenes, present participle serening, simple past and past participle serened)
To make serene.

Heaven and earth, as if contending, vie / To raise his being, and serene his soul. "" Thomson.
Noun
(plural serenes)
(poetic) Serenity; clearness; calmness.
Evening air; night chill.
Origin
From Middle English, from Latin serÄ"nus ("clear, cloudless, untroubled").
Noun
(plural serenes)
A fine rain from a cloudless sky after sunset.
Origin
Old French serein ("evening"), Vulgar Latin *serānum "" from substantive use of sÄ"rum, neuter of sÄ"rus ("late") + -ānus suffix.
Proper noun
A female given name. A rare variant of Serena.
---