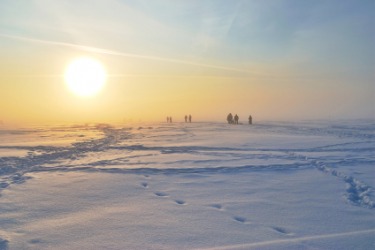 A bright sun shining over the snow.
adjective
The definition of bright is shining and full of light, mentally quick or witty.

An example of bright is the nature of a star.
An example of bright is the bank of lights in front of a famous person who is having their picture taken.
An example of bright is a person who quickly catches on to a difficult situation without the need for much explanation.
adverb
Bright means in an intelligent manner, or in a light way.

An example of bright is how the stars are shining in "O Holy Night."
---
bright
shining with light that is radiated or reflected; full of light
clear or brilliant in color or sound; vivid or intense
lively; vivacious; cheerful: a bright smile
mentally quick; smart, clever, witty, etc.

full of happiness or hope: a bright outlook on life
favorable; auspicious

glorious or splendid; illustrious
Origin of bright
Middle English from Old English
bryht,
earlier
beorht
from Indo-European base an unverified form
bher- eg-,
to gleam, white from source birch, Gothic
bairhts
[
pl.
]
Informal
an automobile's headlights at their brighter, or high-beam, setting
Bright
1811-89; Eng. statesman, political economist, & orator
---
bright
adjective
bright·er, bright·est
a. Emitting or reflecting light readily or in large amounts; shining.

b. Comparatively high on the scale of brightness: bright red.

c. Full of light or illumination: a bright sunny day; a stage bright with spotlights.

Characterizing a dyestuff that produces a highly saturated color; brilliant.
Glorious; splendid: one of the bright stars of stage and screen; a bright moment in history.
Full of promise and hope; auspicious: had a bright future in publishing.
Happy; cheerful: bright faces.
Quick to learn or understand; intelligent.
High and clear: the bright sound of the trumpet section.
Origin of bright
Middle English
from
Old English
beorht
; see
bherəg-
in Indo-European roots.
Related Forms:
---
bright

---