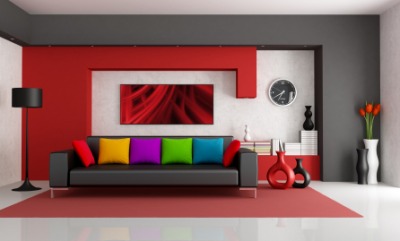 A room decorated with vibrant colors.
adjective
The definition of vibrant is someone or something full of energy, color and life.

An example of something that would be described as vibrant is a bright, cheery and colorful yellow.
An example of someone who would be described as vibrant is a smart, lively and engaging person who always gets the most out of life.
---
vibrant
quivering or vibrating, esp. in such a way as to produce sound
produced by vibration; resonant: said of sound
throbbing with life and activity; lively: vibrant streets
vigorous, energetic, radiant, sparkling, vivacious, etc.: a vibrant woman
Origin of vibrant
Classical Latin
vibrans,
present participle of
vibrare,
to vibrate
---
vibrant
adjective
a. Pulsing or throbbing with energy or activity: the vibrant streets of a big city.

b. Vigorous, lively, and vital: "a vibrant group that challenged the … system" ( Philip Taubman )

Exhibiting or characterized by rapid, rhythmic movement back and forth or to and fro; vibrating.
Produced as a result of vibration; resonant or resounding: vibrant voices.
Relatively high on the scale of brightness: a vibrant hue.
Related Forms:
vi′bran·cy vi′brance

noun
---
vibrant

Adjective
(comparative more vibrant, superlative most vibrant)
---