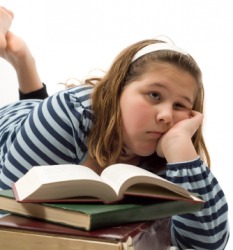 Apparently this book is dull.
adjective
The definition of dull is someone who is stupid or boring or something that is not shiny or something that is not sharp.

An example of dull is a book that is so boring you can't get past page ten.
An example of dull is a rusted piece of metal that has not been polished and that no longer has any shine.
An example of dull is a knife that no longer cuts well because it is no longer very sharp.
---
dull
mentally slow; stupid
lacking sensitivity; blunted in feeling or perception: dull to grief
physically slow; slow-moving; sluggish
lacking spirit, zest, etc.; not lively; listless, insipid, etc.
not active or busy; slack: a dull period for sales
causing boredom; tedious: a dull party
not pointed or sharp; blunt; not keen: a dull blade
not felt keenly; not acute: a dull headache

not vivid; not brilliant; dim: a dull color
not shiny or glossy; lusterless: a dull finish

not distinct, resonant, etc.; muffled: a dull thud
gloomy; cloudy: dull weather
Origin of dull
Middle English
dul
from Old English
dol
, stupid, akin to German
toll
from Indo-European an unverified form
dh(e)wel-
from base an unverified form
dheu-
, blow, be turbid from source dumb, dwell, Old Irish
dall
, blind, Classical Greek
thanatos
, death
---
dull
adjective
dull·er, dull·est
a. Arousing little interest; lacking liveliness; boring: a dull movie.

b. Not brisk or rapid; sluggish: Business has been dull.

Not having a sharp edge or point; blunt: a dull knife.

a. Not intensely or keenly felt: a dull ache.

b. Not bright, vivid, or shiny: a dull brown; a glaze with a dull finish.

c. Cloudy or overcast: a dull sky.

d. Not clear or resonant: a dull thud.

Intellectually weak or obtuse; stupid.
Lacking responsiveness or alertness; insensitive: half-asleep and dull to the noises in the next room.
Dispirited; depressed: a dull mood.
tr. & intr.v.
dulled, dull·ing, dulls
To make or become dull.
Origin of dull
Middle English
dul
Old English
dol
Related Forms:
---
dull

---