active

ac·tive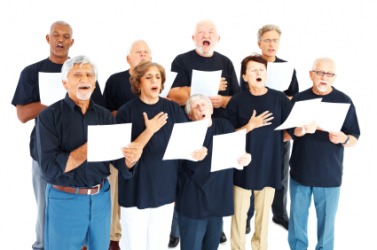 Active members of a choir.
adjective
The definition of active is a person, thing or idea which is moving, in motion or changing.

A person who attends mass weekly and is involved with different religious programs is an example of an active church member.
---
active
that is acting, functioning, working, moving, etc.
capable of acting, functioning, etc.
causing action, motion, or change
characterized by much action or motion; lively, busy, agile, quick, etc.: an active mind, an active boy
actual, not just nominal; participating: an active interest, to play an active role
necessitating action or work

currently in operation, in effect, in progress, etc.: an active law, an active disease
in eruption: an active volcano

requiring or using electric power to function : active speakers

Gram.

denoting the voice or form of a verb whose subject is the performer, or agent, of the action of the verb
in or of the active voice
showing action rather than state of being: said of verbs like throw and walk
Origin of active
Middle English and Old French
actif
from Classical Latin
activus
from
actus
, past participle of
agere
: see act
an active member of an organization

Gram.

the active voice
a verb in this voice
---
active
adjective
Being in physical motion: active fish in the aquarium.
Functioning or capable of functioning.

a. Marked by energetic activity; busy: active stock and bond markets; spent an active day sightseeing.

b. Involving or requiring physical exertion and energy: an active workout at the gym.

a. Being in a state of action; not quiescent: active hostilities along the border.

b. Erupting or liable to erupt; not dormant: an active volcano.

a. Marked by or involving direct participation: took an active interest in politics; played an active role on the committee.

b. Currently in use or effect: an active membership.

c. Openly acknowledged or expressed: an active dislike of the new neighbors.

Producing an intended action or effect: active ingredients.
Grammar

a. Indicating that the grammatical subject of a verb is performing or causing the action expressed. Used of a verb form or voice.

b. Expressing action rather than a state of being. Used of verbs such as run, speak, and move.

Of or relating to the management of an investment portfolio by continually making investment decisions based on new information as opposed to maintaining a predetermined strategy or reproducing the returns of a market or index.
Electronics

a. Being a source of electrical energy, as a generator.

b. Capable of converting or amplifying voltages or currents, as a diode or transistor.

Being on full military duty and receiving full pay.
noun
Grammar

a. The active voice.

b. A construction or form in the active voice.

A participating member of an organization: union actives.
Origin of active
Middle English
actif
from
Old French
from
Latin
āctīvus
from
āctus
past participle of
agere
to drive, do
; see
ag-
in Indo-European roots.
Related Forms:
---
active

---
active - Computer Definition

Energized, i.e., electrically powered, and in a state of readiness to perform a function such as amplifying a signal, detecting and correcting for errors in received data, retiming a signal, or retransmitting a signal. An amplifier or repeater, for example is an active device, but a reflector is passive. See also passive.
---
(1) Using some form of, or a greater amount of, electronic processing in a device. For example, "active 3D" glasses contain circuits that constantly synchronize with the monitor in contrast to "passive 3D" glasses that perform no processing. Active matrix displays have a transistor for each subpixel in contrast to their passive matrix counterpart, which uses far fewer transistors. See active 3D and active matrix. Contrast with passive.
(2) Physically involved in work or athletic endeavors. For example, Samsung phones designed for rugged activities are branded as Galaxy Active devices. See Galaxy S.
---