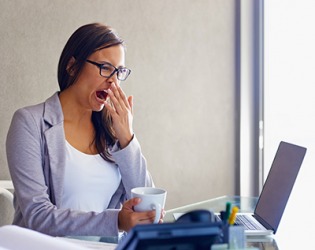 Ivy was feeling sluggish so she drank a cup of coffee to perk herself up.
adjective
The definition of sluggish is slow, very tired or inactive.

An example of a sluggish drain is a kitchen sink that is draining very slowly.
An example of a sluggish person is someone moving very slowly with his work duties.
---
sluggish
lacking energy, alertness, or vigor; indisposed to exertion; slothful
not active; slow or slow-moving; dull
not functioning with normal vigor
Origin of sluggish
from slug + -ish
---
sluggish
adjective
Displaying little movement or activity; slow; inactive: a sluggish stream; sluggish growth.
Lacking alertness, vigor, or energy; inert or indolent.
Slow to perform or respond to stimulation.
Origin of sluggish
Middle English
probably from
slugge
lazy person
; see
slug
2
.
Related Forms:
---
sluggish

Adjective
(comparative sluggisher or more sluggish, superlative sluggishest or most sluggish)
---