adjective
The definition of fast is someone or something that moves quickly, is not easily moved or is firmly shut.

An example of fast is the cheetah's running speed.
An example of fast is a door that is stuck closed.
adverb
Fast is defined as swift or ahead of time.

An example of fast is someone driving 50 in a 30 mph zone.
An example of fast is a printer getting a project completed a day early.
noun
A fast is defined as a period of time during which you go without food.

An example of fast is not eating during daylight hours for Ramadan.
verb
Fast means to eat little or no food.

An example of fast is not eating for twelve hours before having blood drawn.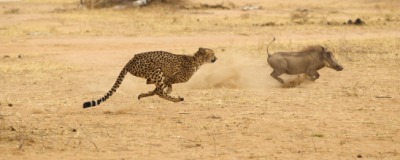 The cheetah is very fast.
---
fast
adjective
not easily moved, freed, or separated; firm, fixed, or stuck: the ship was fast on the rocks
firmly fastened or shut: make the shutters fast
loyal; devoted: fast friends
that will not fade: fast colors
rapid in movement or action; swift; quick; speedy
permitting or facilitating swift movement: a fast highway
taking or lasting a short time: a fast lunch
showing or keeping to a time in advance of a standard or scheduled time: his watch is fast

living in a reckless, wild, dissipated way: a fast crowd
promiscuous sexually

☆

Informal

glib and deceptive: a fast talker

Slang

acting, gotten, done, etc. quickly and often dishonestly: out for a fast buck

Bacteriology

resistant to dissolution or decolorization, as certain bacteria

Photog.

adapted to or allowing very short exposure time: a fast lens, fast film

Now Dial.

complete; sound: a fast sleep
Origin of fast
Middle English ; from Old English
fæst
, akin to German
fest
, firm, stable ; from Indo-European base an unverified form
pasto-
, fixed, secure from source Armenian
hast
adverb
firmly; fixedly
thoroughly; soundly: fast asleep
rapidly; swiftly; quickly; speedily
ahead of time
in a reckless, dissipated way; wildly

Old Poet., Obsolete

close; near: fast by the river
Origin of fast
ME
faste
< OE
fæste
< adj.
noun
Naut.
a rope for mooring:
a stern fast
a fast one
☆
Slang
a deceptive act:
to pull a fast one on someone
play fast and loose
to behave with reckless duplicity or insincerity
intransitive verb
to abstain from all or certain foods, as in observing a holy day
to eat very little or nothing
Origin of fast
Middle English
fasten
; from Old English
fæstan
, akin to German
fasten
, Gothic
fastan
, literally , hold fast ; from base of fast
noun
the act of fasting
a day or period of fasting
break one's fast
to eat food for the first time after fasting, or for the first time in the day
---
fast
adjective
fast·er
,
fast·est
Acting, moving, or capable of acting or moving quickly; swift.

a. Accomplished in relatively little time: a fast visit.

b. Acquired quickly with little effort and sometimes unscrupulously: made a fast buck scalping tickets.

Quick to understand or learn; mentally agile: a class for the faster students.
Indicating a time somewhat ahead of the actual time: The clock is fast.
Allowing rapid movement or action: a fast running track.
Designed for or compatible with a short exposure time: fast film.

a. Disposed to dissipation; wild: ran with a fast crowd.

b. Flouting conventional moral standards; sexually promiscuous.

Resistant, as to destruction or fading: fast colors.
Firmly fixed or fastened: a fast grip.
Fixed firmly in place; secure: shutters that are fast against the rain.
Firm in loyalty: fast friends. See Synonyms at faithful.
Lasting; permanent: fast rules and regulations.
Deep; sound: in a fast sleep.
adverb
faster
,
fastest
In a secure manner; tightly: hold fast.
To a sound degree; deeply: fast asleep.
In a rapid manner; quickly.
In quick succession: New ideas followed fast.
Ahead of the correct or expected time: a watch that runs fast.
In a dissipated, immoderate way: living fast.
Archaic Close by; near.
Origin of fast
Middle English, from Old English
fæst
,
firm, fixed
; see
past-
in Indo-European roots.
intransitive verb
fast·ed
,
fast·ing
,
fasts
To abstain from food.
To eat very little or abstain from certain foods, especially as a religious discipline.
noun
The act or practice of abstaining from or eating very little food.
A period of such abstention or self-denial.
Origin of fast
Middle English
fasten
, from Old English
fæstan
; see
past-
in Indo-European roots.
---
fast
Adjective
(comparative faster, superlative fastest)
(dated) Firmly or securely fixed in place; stable. [from 9th c.]

That rope is dangerously loose. Make it fast!

Firm against attack; fortified by nature or art; impregnable; strong.
(of people) Steadfast, with unwavering feeling. (Now only in set phrases like "fast friend".) [from 10th c.]
Moving with great speed, or capable of doing so; swift, rapid. [from 14th c.]

I am going to buy a fast car.

(of dyes or colours) Not running or fading when subjected to detrimental conditions such as wetness or intense light; permanent. [from 17th c.]

All the washing has come out pink. That red tee-shirt was not fast.

(colloquial) Having an extravagant lifestyle or immoral habits. [from 18th c.]

She's fast – she slept with him on their first date..

Ahead of the correct time or schedule. [from 19th c.]

There must be something wrong with the hall clock. It is always fast.
Adverb
(comparative faster, superlative fastest)
In a firm or secure manner, securely; in such a way as not to be moved [from 10th c.].

Hold this rope as fast as you can.

(of sleeping) Deeply or soundly [from 13th c.].

He is fast asleep.

Immediately following in place or time; close, very near [from 13th c.].

The horsemen came fast on our heels.
Noun
(plural fasts)
(UK, rail transport) A train that calls at only some stations it passes between its origin and destination, typically just the principal stations
Interjection
(archery) Short for "stand fast", a warning not to pass between the arrow and the target
Origin
From Middle English fast, from Old English fæst ("fast, fixed, firm, secure; constant, steadfast; stiff, heavy, dense; obstinate, bound, costive; enclosed, closed, watertight; strong, fortified"), from Proto-Germanic *fastaz, *fastijaz, *fastuz ("fast, firm, secure"), from Proto-Indo-European *pasto- ("fixed, firm, fortified, solid"). Cognate with Scots fest, fast ("fast"), Saterland Frisian fest ("fast"), West Frisian fêst ("fast"), Dutch vast ("fast"), German fest ("fast"), Danish fast ("fast"), Swedish fast ("fast"), Norwegian fast ("fast"), Icelandic fastur ("fast"), Armenian հաստ (hast, "thick"), Sanskrit पस्त्य (pastyá).
The development of "rapid" from an original sense of "secure" apparently happened first in the adverb and then transferred to the adjective; compare hard in expressions like "to run hard". The original sense of "secure, firm" is now slightly archaic, but retained in the related fasten ("make secure").
Verb
(third-person singular simple present fasts, present participle fasting, simple past and past participle fasted)
Noun
(plural fasts)
The period of time during which one abstains from or eats very little food
---
fast - Computer Definition
A specification from the ATM Forum (July 2000) that defines the mechanisms and procedures required to support the transport of variable-length New York Seattle Terminals Front-End Processor Mainframe host datagrams, known as ATM frames, over an ATM infrastructure using SONET/SDH facilities. FAST is similar to Data Exchange Interface (DXI) and Frame User Network Interface (FUNI), which are designed for access to an ATM network over relatively low-speed plesiochronous transmission facilities. FAST, however, is designed for access and/or inter-switch trunking over very high speed SONET/SDH transmission facilities. See also ATM, ATM Forum, datagram, DXI, frame, FUNI, plesiochronous, SDH, and SONET.
---
An asynchronous communications protocol used to quickly transmit files over high-quality lines. Error checking is done after the entire file has been transmitted.
---