eat

eat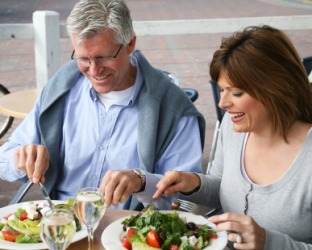 A couple about to eat lunch.
verb
To eat is defined as to put food in the mouth, chew and swallow or to use up.

An example of to eat is having a breakfast of eggs and toast.
An example of eat used as a verb is to say that something eats up time meaning it takes a lot of time.
---
eat
transitive verb
ate

,

eat′en

,

eat′ing
to put (food) in the mouth, chew if necessary, and swallow
to use up, devour, destroy, or waste as by eating; consume or ravage: usually with away or up
to penetrate and destroy, as acid does; corrode
to make by or as by eating: the acid ate holes in the cloth
to bring into a specified condition by eating: to eat oneself sick

Informal

to absorb (a financial loss); accept responsibility for losses resulting from (unsold goods, bad debts, etc.)

Slang

to worry or bother: what's eating him?

Vulgar, Slang

to perform fellatio or cunnilingus on
Origin of eat
Middle English
eten
from Old English
etan
, akin to German
essen
from Indo-European base an unverified form
ed-
, to eat from source Classical Latin
edere
, Classical Greek
edmenai
to eat food; have a meal or meals
to destroy or use up something gradually: often with into
eat one's words
to retract something said earlier
eat out
to have a meal in a restaurant
eat someone out
Slang

to rebuke; reprimand

Vulgar, Slang

to perform cunnilingus on
eat up
to consume all of

Informal

to respond to with avid, uncritical interest or delight
---
eat
verb
ate, eat·en, eat·ing, eats
verb
transitive
a. To take into the body by the mouth for digestion or absorption.

b. To take in and absorb as food: a plant that eats insects; a cell that eats bacteria.

c. To include habitually or by preference in one's diet: a bird that eats insects, fruit, and seeds; stopped eating red meat on advice from her doctor.

To destroy, ravage, or use up by or as if by ingesting: "Covering news in the field eats money" ( George F. Will )
To erode or corrode: waves that ate away the beach; an acid that eats the surface of a machine part.
To produce by eating: Moths ate holes in our sweaters.
Slang To absorb the cost or expense of: "You can eat your loss and switch the remaining money to other investment portfolios" ( Marlys Harris )
Informal To bother or annoy: What's eating him?
Vulgar slang To perform cunnilingus or anilingus on. Often used with out.
verb
intransitive
a. To consume food.

b. To have or take a meal.

To exercise a consuming or eroding effect: a drill that ate away at the rock; exorbitant expenses that were eating into profits.
To cause persistent annoyance or distress: "How long will it be before the frustration eats at you?" ( Howard Kaplan )
Phrasal Verbs:
eat up
Slang
To receive or enjoy enthusiastically or avidly:
She really eats up the publicity.
To believe without question:
He'll eat up whatever the broker tells him.
Origin of eat
Middle English
eten
from
Old English
etan
; see
ed-
in Indo-European roots.
Related Forms:
---
eat

Verb
(third-person singular simple present eats, present participle eating, simple past ate or et (dialect, nonstandard), past participle eaten)
(intransitive) To consume (something solid or semi-solid, usually food) by putting it into the mouth and swallowing it.

He's eating an apple.
Don't disturb me now; can't you see that I'm eating?

​ To consume a meal.

What time do we eat this evening?

(intransitive, ergative) To be eaten.

The soup that eats like a meal.

(informal) To cause (someone) to worry.

What's eating you?

(business) To take the loss in a transaction.

It's a special order, so we can't send it back; if the customer won't accept it, we'll have to eat the forty tons of steel ourselves.
I have to have him in court tomorrow, if he doesn't show up, I forfeit the bond and I have to eat the $300,000 – From the movie Midnight Run

(intransitive) To corrode or erode.

The acid rain ate away the statue.
The strong acid eats through the metal.

(informal, of an device) To damage, destroy, or fail to eject a removable part or an inserted object.

The VHS recorder just ate the tape and won't spit it out.
John is late for the meeting because the photocopier ate his report.
No! There's a problem with the cassette player. Don't press fast forward or it eats the tape! - Bruce Willis in the movie The Last Boy Scout

(informal, of a vending machine or similar device) To consume money or (other instruments of value, such as a token) deposited or inserted by a user, while failing to either provide the intended product or service, or return the payment.

The video game in the corner just ate my quarter.
Hey! This stupid [soda vending] machine ate my quarter. - From the movie Slap Shot

(informal, vulgar) To perform oral sex on someone.

Eat me!
Origin
From Middle English eten, from Old English etan ("to eat"), from Proto-Germanic *etaną ("to eat"), from Proto-Indo-European *h₁ed- ("to eat"). Cognate with Scots aet ("to eat"), West Frisian ite, Low German eten ("to eat"), Dutch eten ("to eat"), German essen ("to eat"), Swedish äta ("to eat"), Danish æde ("to eat"), and more distantly with Latin edō ("eat", verb), Ancient Greek ἔδω (edō), Russian есть (jest', "to eat"), and Lithuanian ėsti.
---