noun
The definition of exhaust is the release of used steam or gas.

An example of exhaust is what comes out of a car's tail pipe.
verb
To exhaust is defined as to use up, tire out or discharge.

An example of to exhaust is someone draining their savings account.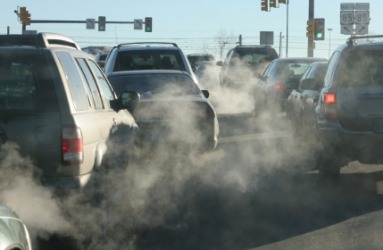 Exhaust fumes from numerous automobiles.
---
exhaust definition by Webster's New World
transitive verb
to draw off or let out completely (air, gas, etc.), as from a container
to use up; expend completely: to exhaust one's resources

to empty completely; draw off the contents of; drain: to exhaust a well
to create a vacuum in

to drain of power, resources, etc.: war exhausted the nation
to tire out; make very weary; weaken
to deal with, study, or develop completely and thoroughly: to exhaust a subject
Origin: ; from Classical Latin exhaustus, past participle of exhaurire, to draw out, exhaust ; from ex-, out plush haurire, to draw, drain ; from Indo-European base an unverified form aus- from source Old Norse ausa
intransitive verb
to be discharged or let out, as gas or steam from an engine
noun
the withdrawing of air, gas, etc. from a container or enclosure, as by means of a fan or pump
an apparatus for doing this, as in getting rid of fumes, dust, stale air, etc.

the discharge or release of used steam, gas, etc. from a steam or gas turbine or from the cylinders of an engine at the end of every working stroke of the pistons
the system of pipes, including mufflers, catalytic converters, etc. through which such steam, gas, etc. is released

something given off or let out, as fumes from a gasoline engine
Webster's New World College Dictionary Copyright © 2010 by Wiley Publishing, Inc., Cleveland, Ohio. Used by arrangement with John Wiley & Sons, Inc.
---
exhaust definition by American Heritage Dictionary
verb
ex·haust·ed
,
ex·haust·ing
,
ex·hausts
verb
, transitive
To wear out completely. See Synonyms at tire1.
To drain of resources or properties; deplete: tobacco crops that exhausted the soil. See Synonyms at deplete.
To use up completely: exhausted our funds before the month was out.
To treat completely; cover thoroughly: exhaust a topic.
To draw out the contents of; drain: exhaust a tank gradually.
To let out or draw off: exhaust vaporous wastes through a pipe.
verb
, intransitive
To escape or pass out: Steam exhausts through this valve.
noun
a. The escape or release of vaporous waste material, as from an engine.

b. The fumes or gases so released.

A duct or pipe through which waste material is emitted.
An apparatus for drawing out noxious air or waste material by means of a partial vacuum.
Origin: Latin exhaurīre, exhaust- : ex-, ex- + haurīre, to draw.
Related Forms: