verb
To expel is defined as to force something or someone out, or to kick someone out of a social club, school or other group.

When you breath out deeply after you've been holding your breath from fear, this is an example of a time when you expel your breath.
When a school kicks out a student for cheating, this is an example of time when the school expels the student.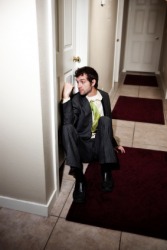 This man has been expelled from his apartment.
---
expel definition by Webster's New World
Webster's New World College Dictionary Copyright © 2010 by Wiley Publishing, Inc., Cleveland, Ohio. Used by arrangement with John Wiley & Sons, Inc.
---
expel definition by American Heritage Dictionary
transitive verb
ex·pelled
,
ex·pel·ling
,
ex·pels
To force or drive out: expel an invader.
To discharge from or as if from a receptacle: expelled a sigh of relief.
To force to leave; deprive of membership: expelled the student from college for cheating. See Synonyms at eject.
Origin: Middle English expellen, from Latin expellere : ex-, ex- + pellere, to drive; see pel-5 in Indo-European roots.
Related Forms: