welcome

wel·come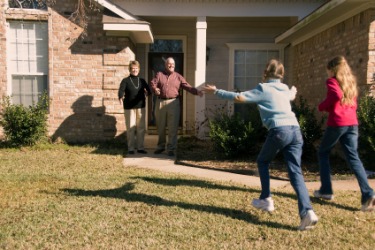 Grandchildren being welcomed for a visit.
adjective
The definition of welcome is someone or something that is pleasant, invited or permitted.

An example of welcome is a guest who's been invited to someone's home.
noun
Welcome is the act of greeting someone.

An example of welcome is someone saying hello with a smile on their face.
verb
Welcome is defined as to greet someone or accept something with pleasure or satisfaction.

An example of welcome is someone asking for feedback from attendees of an event.
---
welcome
gladly and cordially received: a welcome guest
agreeable or gratifying: welcome news
freely and willingly permitted or invited: welcome to use the family library
Origin of welcome
Middle English
welcume
, altered by associated, association with
wel
, well (as if translated, translation of Old French
bien venu
) from
wilcume
from Old English
wilcuma
, origin, originally noun , a welcome guest from
willa
, pleasure, will +
cuma
, guest from
cuman
, to come
an act or expression of welcoming: a hearty (or cold) welcome
you are welcome here: an expression of cordial greeting
transitive verb
-·comed

,

-·com·ing
to greet with pleasure and hospitality
to receive or accept with pleasure or satisfaction: to welcome criticism
to meet, receive, or acknowledge in a specified way; greet
bid welcome
to receive with cordial greetings
wear out one's welcome
to come so often or stay so long that one is no longer welcome
you're welcome
you're under no obligation for the favor given: the conventional response to an expression of thanks
---
welcome
adjective
Received with pleasure and hospitality into one's company or home: a welcome guest.
Giving pleasure or satisfaction; agreeable or gratifying: a welcome respite from hard work.
Cordially or willingly permitted or invited: You are welcome to join us.
Used in the expression you're welcome to acknowledge an expression of gratitude.
noun
A cordial greeting or hospitable reception given to an arriving person.
A reception upon arrival: gave the stranger an unfriendly welcome.
The state of being welcome: Don't overstay your welcome.
transitive verb
wel·comed, wel·com·ing, wel·comes
To greet, receive, or entertain (another or others) cordially or hospitably.
To receive or accept gladly: would welcome a little privacy.
interjection
Used to greet cordially a visitor or recent arrival.
Origin of welcome
Middle English
alteration
(
influenced by
wel
well
)
of
Old English
wilcuma
welcome guest, welcome
; see
gwā-
in Indo-European roots.
Related Forms:
---
welcome

---