noun
Permit is defined as an official document that allows you to do or have something.

An example of a permit is a gun license.
An example of a permit is a city-issued allowance for a parade.
An example of a permit is the ticket that says you paid for parking.
verb
The definition of permit is to allow something.

An example of to permit is to be let into a secure area after a guard checkpoint.
An example of to permit is for a parent to allow their child to attend a party.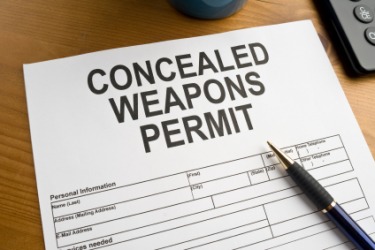 An application for a weapons permit.
---
permit definition by Webster's New World
transitive verb
permitted, permitting
to allow; consent to; tolerate: smoking is not permitted here
to give permission to; authorize: to permit the demonstrators to march in the street
to give opportunity for: to permit light to enter
Origin: Late Middle English permitten ; from Classical Latin permittere ; from per, through plush mittere, to send: see mission
intransitive verb
to give opportunity or possibility: if the weather permits
noun
Now Rare

permission, esp. in writing
a document granting permission; license; warrant
a printed postal indicia, stamped ticket, etc.: postal permit, parking permit
☆
noun
an Atlantic pompano fish (Trachinotus falcatus) found esp. in the Caribbean
Origin: altered (infl. by permit) ; from Spanish palometa, origin, originally diminutive of paloma, dove: see palomino
Webster's New World College Dictionary Copyright © 2010 by Wiley Publishing, Inc., Cleveland, Ohio. Used by arrangement with John Wiley & Sons, Inc.
---
permit definition by American Heritage Dictionary
verb
per·mit·ted
,
per·mit·ting
,
per·mits
verb
, transitive
To allow the doing of (something); consent to: permit the sale of alcoholic beverages.
To grant consent or leave to (someone); authorize: permitted him to explain.
To afford opportunity or possibility for: weather that permits sailing.
verb
, intransitive
To afford opportunity; allow: if circumstances permit.
noun
Permission, especially in written form.
A document or certificate giving permission to do something; a license or warrant: a building permit.
Origin: Middle English permitten, from Latin permittere : per-, through; see per- + mittere, to let go.
Related Forms:
Usage Note:
In the sense "to allow for, be consistent with,"
permit
is often followed by the preposition
of:
The wording of the note permits of several interpretations.
But
of
should not be used when the meaning of
permit
is "to give permission":
The law permits

(not

permits of

)

camping on the beach.
The American Heritage® Dictionary of the English Language, 4th edition Copyright © 2010 by Houghton Mifflin Harcourt Publishing Company. Published by Houghton Mifflin Harcourt Publishing Company. All rights reserved.
---
permit - Business Definition
A document granting government authorization to do something. For example, a contractor applies for a building permit to add a bedroom to a home.