periscope

per·i·scope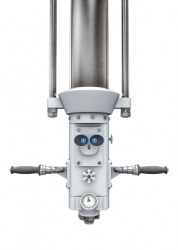 The eyepiece of a periscope.
noun
The definition of a periscope is a set of lenses, mirrors or prisms on a tube allowing the viewer to see objected reflected on the other end.

An example of a periscope is the viewing tool used on a submarine.
---
periscope
a periscopic lens
an optical instrument consisting of a tube holding a system of lenses and mirrors or prisms, so arranged that a person looking through the eyepiece at one end can see objects reflected at the other end: used on submerged submarines, etc.
Origin of periscope
peri- + -scope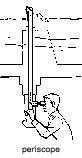 ---
periscope
noun
Any of various tubular optical instruments that contain reflecting elements, such as mirrors and prisms, to permit observation from a position displaced from a direct line of sight.
Related Forms:
per′i·scop′ic per′i·scop′i·cal

adjective
periscope
Light enters the top lens of a periscope, reflects off a mirror set at a 45 degree angle, travels down the periscope tube, and reflects off a second mirror, also set at a 45 degree angle. Light that reflects off the second mirror exits through the bottom lens and into the eye of the user.
---
periscope

Noun
(plural periscopes)
A form of viewing device that allows the viewer to see things at a different height level and usually with minimal visibility.
Verb
(third-person singular simple present periscopes, present participle periscoping, simple past and past participle periscoped)
(intransitive) To rise and peer around, in the manner of a periscope.
Origin
From peri- +"Ž -scope.
---