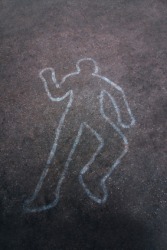 Someone perished here.
verb
To perish is to suffer death, ruin or destruction.

When a person is murdered, this is an example of a situation in which the person is said to perish.
---
perish
to be destroyed, ruined, or wiped out
to die; esp., to die a violent or untimely death
Origin of perish
Middle English
perischen
from extended stem of Old French
perir
from Classical Latin
perire,
to go through, perish from
per-,
through (see per) +
ire,
to go: see year
perish the thought!
let's not even consider such a possibility!
---
perish
verb
per·ished, per·ish·ing, per·ish·es
verb
intransitive
To die or be destroyed, especially in a violent or untimely manner: "Must then a Christ perish in torment in every age to save those who have no imagination?" ( George Bernard Shaw )
To pass from existence; disappear gradually: "Man will go down into the pit, and all his thoughts will perish" ( A.J. Balfour )
Chiefly British To spoil or deteriorate.
verb
transitive
To bring to destruction; destroy: "Many foul blights / Perish'd his hard won gains" ( Thomas Hood )
Origin of perish
Middle English
perishen
from
Old French
perir
periss-
to perish
from
Latin
perīre
per-
per-
īre
to go
; see
ei-
in Indo-European roots.
---
perish

Verb
(third-person singular simple present perishes, present participle perishing, simple past and past participle perished)
(intransitive) To pass away; to come to naught; to waste away; to decay and disappear.
(intransitive) To die; to cease to live.
---