noun
The definition of an exit is a departure or a place for a departure.

An example of an exit is door to use to leave a building.
verb
Exit is defined as to leave or go out of.

An example of to exit is to walk out of a door.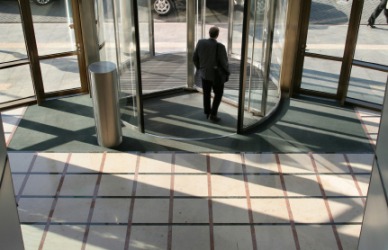 A man exits a building.
---
exit definition by Webster's New World
noun
an actor's departure from the stage
a going out; departure
a way out; doorway or passage leading out

Origin: L, 3d pers. sing., pres. indic., of exire

he (or she) leaves the stage: a direction in a play script
☆ a ramp or road leading from an expressway
Origin: Classical Latin exitus, origin, originally past participle of exire, to go out ; from ex-, out plush ire, to go ; from Indo-European base an unverified form ei- from source year, Sanskrit ḗmi, Gothic iddja (I went)
intransitive verb
to leave; depart
transitive verb
to leave (a building, road, vehicle, etc.): she will exit the plane at Atlanta

Comput.

to finish using and close (a program)
Webster's New World College Dictionary Copyright © 2010 by Wiley Publishing, Inc., Cleveland, Ohio. Used by arrangement with John Wiley & Sons, Inc.
---
exit definition by American Heritage Dictionary
noun
The act of going away or out.
A passage or way out: an emergency exit in a theater; took the second exit on the throughway.
The departure of a performer from the stage.
Death.
verb
ex·it·ed
,
ex·it·ing
,
ex·its
verb
, intransitive
To make one's exit; depart.
verb
, transitive
To go out of; leave: exited the plane through a rear door.
Computer Science To terminate the execution of (an application): exited the subroutine.
Origin: From Latin, third person sing. of exīre, to go out : ex-, ex- + īre, to go; see ei- in Indo-European roots. N., sense 2, from Latin exitus, from past participle of exīre.
The American Heritage® Dictionary of the English Language, 4th edition Copyright © 2010 by Houghton Mifflin Harcourt Publishing Company. Published by Houghton Mifflin Harcourt Publishing Company. All rights reserved.
---
exit - Computer Definition
(1) To get out of the current mode or quit the program. Contrast with launch.
(2) A DOS/Windows command that exits the command prompt.
(3) An instruction that terminates a script or program. The exit command may take a numeric argument to identify the reason for ending. For example, a "0" is often assigned to a normal close. Other exits are given different numbers by the programmer to identify which part of the program could no longer handle the current inputs and had to abnormally terminate.