issue

is·sue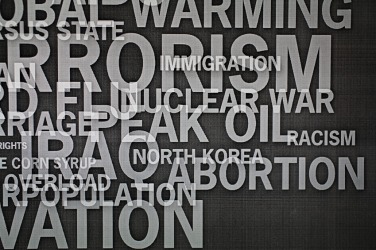 Some of the big issues of our day.
noun
The definition of an issue is something that is discussed, distributed or the offspring of someone.

An example of issue is the subject of abortion.
An example of issue is the latest edition of Family Circle.
An example of issue is the children of someone named in a will.
verb
Issue is defined as to deliver or distribute.

An example of issue is to provide someone with a new driver's license.
---
issue
an outgoing; outflow; passing out

Archaic

a way out; exit; outlet
a result; consequence; upshot
offspring; a child or children
profits from lands, estates, or fines; produce; proceeds
a point, matter, or question to be disputed or decided
a sending or giving out; putting forth
the thing or set of things issued; all that is put forth and circulated at one time: the July issue of a magazine, an issue of bonds

Med.

a discharge of blood, pus, etc.
an incision or artificial ulcer for the discharge of pus

Informal

a problem or difficulty, esp. one of a psychological or emotional nature: usually used in pl.
Origin of issue
Old French past participle of
issir
, to go out from Classical Latin
exire
from
ex-
, out +
ire
, to go: see year
intransitive verb
-·sued

,

-·su·ing
to go, come, pass, or flow out; emerge
to be descended; be born
to be derived or result (from a cause)
to end or result (in an effect or consequence)
to come as revenue; accrue
to be printed or published; be put forth and circulated
to let out; discharge
to give or deal out; distribute: to issue supplies
to print or publish; put forth and circulate; give out publicly or officially: to issue commemorative stamps
at issue
in dispute or under discussion

also, esp. in law,

in issue

at variance; in disagreement
join issue
to enter into conflict, argument, etc. with another or each other
to join in submitting an issue for decision at law
---
issue
noun
a. A point or matter of discussion, debate, or dispute: What legal and moral issues should we consider?

b. A matter of public concern: debated economic issues.

c. A misgiving, objection, or complaint: had issues with the plan to change the curriculum.

a. A problem or difficulty.

b. A personal problem: is convinced that her boss has issues.

a. The act of circulating, distributing, or publishing by a business, government, or organization: government issue of new bonds.

b. An item or set of items, as stamps or coins, made available at one time by a business, government, or organization.

c. A single copy of a periodical: the May issue of the magazine.

d. A distinct set of copies of an edition of a book distinguished from others of that edition by variations in the printed matter.

e. Proceeds from estates or fines.

f. Something proceeding from a specified source: suspicions that were the issue of a deranged mind.

g. A culminating point leading to a decision: bring a case to an issue.

h. A final result or conclusion, as a solution to a problem.

a. The act or an instance of flowing, passing, or giving out: where the lake gives issue to its waters.

b. A place of egress; an outlet: a lake with no issue to the sea.

Medicine

a. A discharge, as of blood or pus.

b. A lesion, wound, or ulcer producing such a discharge.

Offspring; progeny: died without issue.
verb
is·sued, is·su·ing, is·sues
verb
intransitive
a.

To flow, go, or come out:

water issuing from a spring; voices issuing from a room.

See Synonyms at

appear

.

b.

To proceed from a source; emerge or come forth:

ideas issuing from a discussion.

See Synonyms at

stem1

.

c. To have as a consequence; result: discontent that issued in social unrest.

To accrue as proceeds or profit: Little money issued from the stocks.
To be born or be descended: generations issuing from an ancestor.
To be circulated or published: books issuing from a publisher.
verb
transitive
To circulate or distribute in an official capacity: issued uniforms to the players.
To publish: issued periodic statements.
To pour forth or send out; emit: a chimney issuing smoke.
Origin of issue
Middle English
from
Old French
eissue, issue
from
Vulgar Latin
exūta
alteration of
Latin
exita
feminine past participle of
exīre
to go out
ex-
ex-
īre
to go
; see
ei-
in Indo-European roots.
Related Forms:
Usage Note: People often use issue to refer to a problem, difficulty, or condition, especially an embarrassing or discrediting one. The word is frequently used in the plural. Thus, a business executive who has been accused of fraud is said to have legal issues, a company facing bankruptcy has financial issues, and a person who picks fights may have anger management issues. Some people dislike this usage, claiming that it is imprecise or euphemistic. The majority of the Usage Panel frowned on it in 2002, but in just over ten years, opinion has shifted such that a majority now find it acceptable. In our 2013 survey, 78 percent of the Usage Panel accepted issue in these examples: That kid has issues and needs to see the guidance counselor. I don't want to hire someone who has issues with carrying out orders from an authority. Although the acceptance was lukewarm (about a third of the panelists found these sentences only "somewhat acceptable"), this is a substantial increase over the 39 percent who accepted similar sentences in 2002. A similar shift of opinion has occurred concerning the use of issue for a technical problem. In 2002, only 18 percent of Panelists approved of the sentence There were a number of issues installing the printer driver in the new release of the software. By 2013, approval had risen to 68 percent. Although issue is now widely acceptable, choosing another word, such as glitch, problem, or complication, can often lend precision to your writing.
---
issue

---
issue - Investment & Finance Definition
A security that will be sold to public or private investors. Those securities may be stocks or bonds. The term may also be used as a verb to indicate that a company plans to issue a bond offering.
---
issue - Legal Definition
n
A question of law or fact disputed by the parties.
In estate law, the descendants of a common ancestor; offspring.
collateral issue
Incidental to the central issue in a matter.
material issue
An issue which directly bears on the outcome of a matter; significant to the determination of a fact in dispute. 
---