parent

par·ent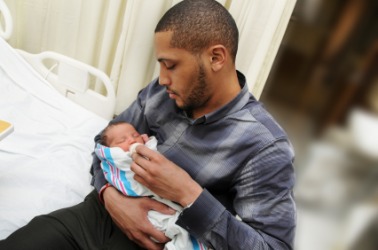 A new parent holds his child.
adjective
Parent means relating to a source or owner.

An example of parent used as an adjective is in the phrase "parent company," which means a company that is in charge of other companies.
noun
The definition of a parent is a mother or father.

An example of a parent is a plant that sprouts many other plants.
verb
Parent is defined as to give life or raise children.

An example of parent is to bring up three children.
---
parent
a mother or father
a progenitor or ancestor
any animal, organism, or plant in relation to its offspring
anything from which other things are derived; source; origin
Origin of parent
Old French from Classical Latin
parens,
parent, origin, originally present participle of
parere,
to beget: see -parous
designating a corporation in relation to a subsidiary that it owns and controls
designating anything in relation to something for which it is the source: other books based on this parent work
to be or act as the parent (of)
---
parent
noun
a. A female person whose egg unites with a sperm or a male person whose sperm unites with an egg, resulting in the conception of a child or the birth of a child.

b. A female person who is pregnant with or gives birth to a child except when someone else has legal rights to the child.

c. A person who adopts a child.

d. A person who raises a child.

An ancestor; a progenitor.
An organism that produces or generates offspring.
A guardian; a protector.
A parent company.
A source or cause; an origin: Despair is the parent of rebellion.
verb
par·ent·ed, par·ent·ing, par·ents
verb
transitive
To act as a parent to; raise and nurture: "A genitor who does not parent the child is not its parent" ( Ashley Montagu )
To cause to come into existence; originate.
verb
intransitive
To act as a parent.
Origin of parent
Middle English
from
Old French
from
Latin
parēns
parent-
from past active participle of
parere
to give birth
; see
perə-
1
in Indo-European roots.
Related Forms:
---
parent

---