noun
Spring is an elastic or bouncing ability or the season between winter and summer.

An example of spring is what is in a jack-in-the-box toy.
An example of spring is the month of May.

Spring means a source of water from the ground, particularly a very small pond.

An example of spring is the water outlet that forms a pond.

The definition of a spring is a coil that goes to its original shape after being compressed.

An example of spring is the coil in a mattress.
verb
Spring is defined as to jump up or to originate from.

An example of spring is a jack-in-the-box leaping out of the toy's box.
An example of spring is for a housing development to seem as if it quickly appears.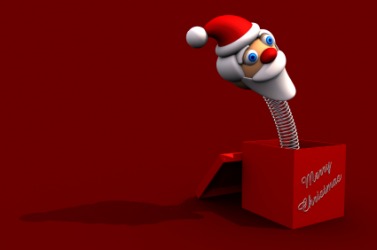 The jack-in-the-box springs out to surprise you.
---
spring
intransitive verb
sprang or sprung, sprung, springing
to move suddenly and rapidly; specif.,

to move upward or forward from the ground, etc. by suddenly contracting the muscles; leap; bound; also, to make a series of such leaps
to rise suddenly and quickly from or as from a sitting or lying position: to spring to one's feet
to come, appear, etc. suddenly and quickly: curses springing to his lips
to move as a result of resilience; bounce

to come or arise as from some source; specif.,

to grow or develop: the plant springs from a seed
to come into existence, usually quickly: towns sprang up
to be descended

Archaic

to begin to appear, as day; dawn

to become warped, bent, split, loose, etc.: the door has sprung
to rise up above surrounding objects; tower: a steeple springing high above the town
☆

Informal

to bear the cost for someone else; treat (with for)

Archit.

to rise from the impost with an outward curve
Origin of spring
Middle English
springen
; from Old English
springan,
akin to Dutch and amp; German
springen
; from Indo-European an unverified form
sprenĝh-,
to move quickly (; from base an unverified form
sper-,
to jerk) from source Sanskrit
spṛhayati,
(he) strives for
transitive verb
to cause to leap or come forth suddenly: to spring a covey of quail

Rare

to leap over; vault
to cause to close or snap shut, as by a spring: to spring a trap

to cause to warp, bend, strain, split, etc., as by force
to stretch (a spring, etc.) beyond the point where it will spring back fully

to explode (a military mine)
to make known or cause to appear suddenly or unexpectedly: to spring a surprise

Origin of spring

< springthe , sense to equip with springs
☆

Slang

to get (someone) released from jail or custody, as by paying bail
noun
the act or an instance of springing; specif.,

a jump or leap forward or upward, or the distance covered by this
a sudden darting or flying back

the quality of elasticity; resilience
energy or vigor, as in one's walk

a device, as a coil of wire, that returns to its original form after being forced out of shape: springs are used to absorb shock, and as the motive power in clocks and similar mechanisms
a bedspring or box spring: usually used in pl.

a flow of water from the ground, often a source of a stream, pond, etc.
any source, origin, or motive

that season of the year in which plants begin to grow after lying dormant all winter: in the North Temperate Zone, generally regarded as including the months of March, April, and May: in the astronomical year, that period between the vernal equinox and the summer solstice
any period of beginning or newness

Scot.

a lively song or dance

Archit.

the line or plane in which an arch or vault rises from its impost

Naut.

a split or break in a mast or spar
Origin of spring
ME & OE
springe
adjective
of, for, appearing in, or planted in the spring
of or acting like a spring; elastic; resilient
having, or supported on, a spring or springs: a spring mattress
coming from a spring: spring water
spring a leak
☆ to begin to leak suddenly
---
spring
verb
sprang
sprang
or
sprung
,
sprung
sprung
,
spring·ing
,
springs
verb
, intransitive
To move upward or forward in a single quick motion or a series of such motions; leap: The goat sprang over the log.
To move suddenly, especially because of being resilient or moved by a spring: I let the branch spring forward. The door sprang shut.
To start doing something suddenly: The firefighters sprang into action.

a. To appear or come into being quickly: New businesses are springing up rapidly.

b. To issue or emerge suddenly: A cry sprang from her lips. A thought springs to mind.

c. To arise from a source; develop:

Their frustration springs from a misunderstanding.

See Synonyms at

stem1

.

To extend or curve upward, as a rafter or arch.
To become warped, split, or cracked. Used of wood.
To move out of place; come loose, as parts of a mechanism.
Slang To buy something or pay an expense: He offered to spring for the dinner.
verb
, transitive
To cause to leap, dart, or come forth suddenly: The hound sprang a quail.
To release from a checked or inoperative position: spring a trap.
To present or disclose unexpectedly or suddenly: "He sprung on the world this novel approach to political journalism" (Curtis Wilkie).
Slang To cause to be released from prison or other confinement.

a. To cause to warp, split, or crack, as a mast.

b. To have (a mast, for example) warp, split, or crack.
noun
An elastic device, such as a coil of wire, that regains its original shape after being compressed or extended.

a. Elasticity; resilience: a mattress with a lot of spring.

b. Energetic bounce: a spring to one's step.

The act or an instance of jumping or leaping.
A usually rapid return to normal shape after removal of stress; recoil: the spring of a bow.
A small stream of water flowing naturally from the earth.
A source, beginning, or motive: Her acquaintance was a spring of happiness.

a. The season of the year between winter and summer, during which the weather becomes warmer and plants revive, extending in the Northern Hemisphere from the vernal equinox to the summer solstice and popularly considered to include the months of March, April, and May. In the Southern Hemisphere austral spring includes September, October, and November.

b. A time of growth and renewal.

A warping, bending, or cracking, as that caused by excessive force.
Architecture The point at which an arch or vault rises from its support.
adjective
Of or acting like a spring; resilient.
Having or supported by springs: a spring mattress.

a. Relating to or occurring in spring: spring showers; spring planting.

b. Grown during the season of spring: spring crops.
Origin of spring
Middle English
springen
, from Old English
springan
. N., Middle English
springe
, from Old English
spring
,
wellspring
.
---
spring
Verb
(third-person singular simple present springs, present participle springing, simple past sprang or sprung, past participle sprung)
To pass over by leaping.

to spring a fence

To produce or disclose unexpectedly, especially of surprises, traps, etc.
To come into being, often quickly or sharply.

Trees are already springing up in the plantation.

To start or rise suddenly, as from a covert.
To cause to spring up; to start or rouse, as game; to cause to rise from the earth, or from a covert.

to spring a pheasant

To crack or split; to bend or strain so as to weaken.

to spring a mast or a yard

To bend by force, as something stiff or strong; to force or put by bending, as a beam into its sockets, and allowing it to straighten when in place; often with in, out, etc.

to spring in a slat or a bar

To issue with speed and violence; to move with activity; to dart; to shoot.
To fly back.

A bow, when bent, springs back by its elastic power.

To bend from a straight direction or plane surface; to become warped.

A piece of timber, or a plank, sometimes springs in seasoning.

To shoot up, out, or forth; to come to the light; to begin to appear; to emerge, like a plant from its seed, a stream from its source, etc.; often followed by up, forth, or out.
To issue or proceed, as from a parent or ancestor; to result, as from a cause, motive, reason, or principle.
Usage notes
The past-tense forms sprang and sprung are both well attested historically. In modern usage, sprang is comparatively formal (more often considered correct), sprung comparatively informal. The past participle, however, is overwhelmingly sprung; sprang as a past participle is attested, but is no longer in standard use.
sprang
springwort
sprung
to-spring
unspring
Noun
(countable and uncountable, plural springs)
A leap; a bound; a jump.
(countable)  Traditionally the first of the four seasons of the year in temperate regions, in which plants spring from the ground and trees come into blossom, following winter and preceding summer.

Spring is the time of the year most species reproduce.
I spent my spring holidays in Morocco.
You can visit me in the spring, when the weather is bearable.

(countable)  Meteorologically, the months of March, April and May in the northern hemisphere (September, October and November in the southern).
(countable)  The astronomically delineated period from the moment of vernal equinox, approximately March 21 in the northern hemisphere to the moment of the summer solstice, approximately June 21. (See Spring (season) on Wikipedia. for other variations.)
(countable)  Spring tide; a tide of greater-than-average range, that is, around the first or third quarter of a lunar month, or around the times of the new or full moon.
(countable)  A place where water emerges from the ground.

This water is bottled from the spring of the river.

(uncountable)  The property of a body of springing to its original form after being compressed, stretched, etc.

the spring of a bow

Elastic power or force.
(countable)  A mechanical device made of flexible or coiled material that exerts force when it is bent, compressed or stretched.

We jumped so hard the bed springs broke.

Any active power; that by which action, or motion, is produced or propagated; cause; origin; motive.
That which springs, or is originated, from a source.

A youth; a springald.

The time of growth and progress; early portion; first stage.
(countable, nautical)  A rope attaching the bow of a vessel to the stern-side of the jetty, or vice versa, to stop the vessel from surging.

You should put a couple of springs onto the jetty to stop the boat moving so much.

(nautical)  A line led from a vessel's quarter to her cable so that by tightening or slacking it she can be made to lie in any desired position; a line led diagonally from the bow or stern of a vessel to some point upon the wharf to which she is moored.
(nautical)  A crack or fissure in a mast or yard, running obliquely or transversely.
sprang
springwort
sprung
to-spring
unspring
Origin
From Middle English springen, from Old English springan, from Proto-Germanic *springaną (compare West Frisian springe, Dutch/Low German/German springen, Danish springe, Swedish springa), from Proto-Indo-European *sperǵʰ- (compare Lithuanian spreñgti ("to push in"), Old Church Slavonic прѧсти (pręsti, "to spin, stretch"), Ancient Greek σπέρχω (sperkhō, "I hasten"), Sanskrit स्पृहयति (spṛhayati, "is eager")).
Sense of 'season' 1547, from earlier springing time, spring-time, in sense of buds sprouting or "springing" up. This replaced Old English lencten (compare Lent) by the 14th century.
Sense of 'source of water' attested circa 1225.
---