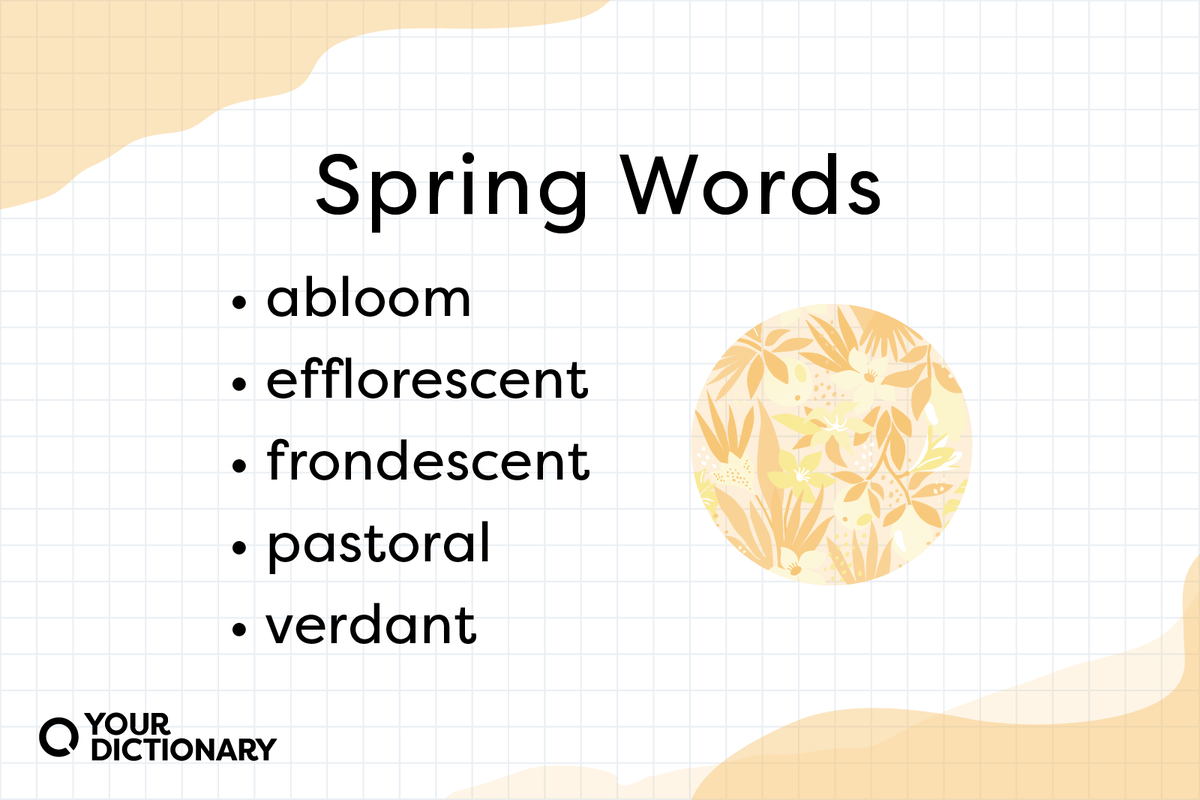 How would you describe spring? Would you write about spring's pretty flowers, green trees, and lovely fields? You could — or you can describe the season's budding flowers, verdant trees, and flourishing fields instead. Use this list of unique spring words to enhance your description of this harmonious, rejuvenating season.
Descriptive List of Spring Words
Enhance your spring poetry — or even your spring social media posts — with these illustrative words to describe the senses of springtime.
| | | |
| --- | --- | --- |
| Word | Definition | Example Sentence |
| abloom | being in bloom; flowering | The fields were abloom with purple lilac. |
| ambrosial | divinely sensuous | The scent of sweet cherry blossoms in the spring air was positively ambrosial. |
| aromatic | having a sweet aroma | With the smells of fresh grass and flowers in the air, spring may be the most aromatic season of all. |
| blossoming | appearing in blossoms | I love when the peach trees begin blossoming after winter. |
| bountiful | having a generous supply | The spring meadow was bountiful with new life. |
| budding | opening into flowers | The budding yellow tulips welcomed us on the warm spring morning. |
| burgeoning | sprouting or beginning | Some burgeoning sprouts turned the spring garden green. |
| efflorescent | bursting into flower | We breathed in the floral scent on an efflorescent spring afternoon. |
| flourishing | growing well; thriving | My flourishing vegetable garden has grown after the spring rain. |
| fragrant | sweet smelling | Who needs perfume on such a fragrant spring morning? |
| frondescent | leafy and green | I love walking through the frondescent meadow in the sunshine. |
| harmonious | a pleasing sound | The harmonious chorus of chirping birds woke me from an afternoon nap. |
| incalescent | becoming warmer | We have really enjoyed these incalescent spring evenings as the sun sets later. |
| lush | abundant and growing | A lush meadow of flowers beckoned busy honeybees. |
| pastoral | relating to farms and pastures | The pastoral backdrop for our spring picnic looked like a painting. |
| picturesque | as vivid as a picture | Take a walk through the orchard for a picturesque glimpse of spring. |
| rejuvenating | to become new and fresh | The newly warm mornings of spring are a rejuvenating force. |
| renascent | born again (as in renaissance) | A renascent patch of spring grass pushed past the melting snow. |
| splendorous | wonderful to the senses | What a splendorous spring morning to behold! |
| verdant | deeply green | The previously bare trees turned bright and verdant as spring began. |
Spring Words Beginning With A-E
From flowers to weather words, you'll find plenty of spring vocabulary words starting with the letters in the first part of the alphabet.
apple blossoms
April showers
cherry blossoms
Spring Words Starting With F-P
The middle of the alphabet also reveals quite a few words that are related to spring, especially those related to farms and events.
melting snow
new growth
new life
Spring Words That Starting With Q-Z
From spring sounds to the way things grow, there are even a number of springtime words that begin with letters toward the end of the alphabet.
Illustrated List of Spring Words
A printable list of spring words includes a selection of common spring terms and their pictures.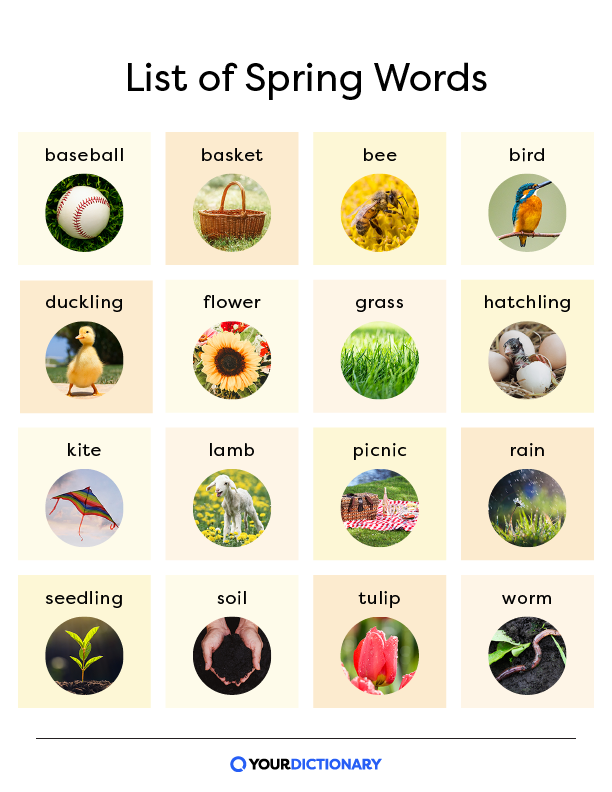 Examples of Spring Phrases
Spring words on their own are great, but so are phrases. Celebrate spring with one of these seasonal sayings.
April showers bring May flowers
go fly a kite
new life, new season
out of the cold, into the warmth
refresh and declutter with spring cleaning
showers before flowers
soak up the springtime sunshine
spring has sprung
spring is a time for new beginnings
spring is in the air
spring planting produces summer bounty
tend the earth