free

free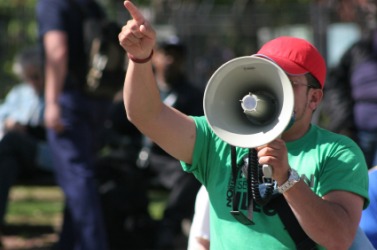 A man exercises his right to free speech.
adjective
The definition of free is enjoying personal freedom and liberties or to have no cost.

An example of free is a place where citizens may speak and act as they please, as long as they respect this right of others.
An example of free is a complimentary piece of chocolate with a wine tasting.
adverb
Free is defined as without charge.

An example of free is being able to ride a roller coaster at an amusement park without paying.
verb
Free means to release or let go.

An example of free is to let all of the animals out of a zoo.
---
free
adjective
fre′er

,

fre′est
not under the control of some other person or some arbitrary power; able to act or think without compulsion or arbitrary restriction; having liberty; independent
characterized by or resulting from liberty

having, or existing under, a government that does not impose arbitrary restrictions on the right to speak, assemble, petition, vote, etc.; having civil and political liberty: a free people
not under control of a foreign government

able to move in any direction; not held, as in chains, etc.; not kept from motion; loose
not held or confined by a court, the police, etc.; acquitted
not held or burdened by obligations, debts, discomforts, etc.; unhindered; unhampered: free from pain
at liberty; allowed: free to leave at any time
not confined to the usual rules or patterns; not limited by convention or tradition: free verse
not literal; not exact: a free translation
not held or confined by prejudice or bias
not restricted by anything except its own limitations or nature: free will
not busy or not in use; available for other work, use, etc.
readily done or made; spontaneous: a free offer
not constrained or stilted; easy and graceful: a free gait

generous; liberal; lavish: a free spender
profuse; copious

frank; straightforward
too frank or familiar in speech, action, etc.; forward
with no charge or cost; gratis: a free ticket
not liable to (trade restrictions, etc.); exempt from certain impositions, as taxes or duties
clear of obstructions; open and unimpeded: a free road ahead
open to all; esp., without restrictions as to trade: a free market, free port
not in contact or connection; not fastened: the free end of a rope
not united; not combined: free oxygen

Games

additional; extra: a free turn

Jazz

designating or of improvisation unrestricted by set harmonic structure, rhythmic patterns, tempo, etc.

Linguis.

designating a minimum form, or morpheme, that may occur alone as an independent word: in "boys," boy is a free form, but -s is not

Navigation

not opposed; favorable: said of a wind blowing from a direction more than six points from straight ahead
Origin of free
Middle English
fre
from Old English
freo
, not in bondage, noble, glad, illustrious, akin to German
frei
, Dutch
vrij
from Indo-European base an unverified form
prei-
, to be fond of, hold dear from source friend, Sanskrit
priyá-
, dear, desired
adverb
fre′er

,

fre′est
without cost or payment
in a free manner; without obstruction, burden, obligation, etc.

Naut.

with a favorable wind
transitive verb
freed

,

free′ing
to make free; specif.,
to release from bondage or arbitrary power, authority, obligation, etc.
to clear of obstruction, entanglement, etc.; disengage
for free
Informal
without cost or payments; gratis
free and easy
not constrained by formality or conventionality; informal; unceremonious
free from
lacking; without
released or removed from
beyond; outside of
free up
to release, or make available, for use: to free up funds
give (or have) a free hand
to give (or have) liberty to act according to one's judgment
make free with
to use or treat as if one owned; use freely
to take liberties with
set free
to cause to be free; release; liberate
with a free hand
with generosity; lavishly
-free
free of or from, exempt from, without: used in hyphenated compounds: tax-free income
---
free
adjective
fre·er, fre·est
a. Not imprisoned or confined: walked out of prison a free man; set the birds free.

b. Not controlled by obligation or the will of another: felt free to go.

a. Not controlled by another country or political power; independent: a free nation.

b. Governed by consent and possessing or granting civil liberties: a free citizenry.

c. Not subject to arbitrary interference by a government: a free press.

d. Not enslaved.

a. Not affected or restricted by a given condition or circumstance: a healthy animal, free of disease; people free from need.

b. Not subject to a given condition; exempt: income that is free of all taxes.

a. Not bound by convention or the rules of form: a free artistic style.

b. Not literal or exact: a free translation.

a. Costing nothing; gratuitous: a free meal.

b. Publicly supported: free education.

a. Unobstructed; clear: a free lane on the highway.

b. Not occupied or used: a free locker; free energy.

c. Not taken up by scheduled activities: free time between classes.

a. Immoderate in giving or spending; liberal or lavish: tourists who are free with their money.

b. Frank or unguarded in expression or manner; open or outspoken: She is very free with her opinions.

Given, made, or done of one's own accord; voluntary or spontaneous: a free act of the will; free choices.
Chemistry & Physics

a. Unconstrained; unconfined: free expansion.

b. Not fixed in position; capable of relatively unrestricted motion: a free electron.

c. Not chemically bound in a molecule: free oxygen.

d. Involving no collisions or interactions: a free path.

e. Empty or unoccupied: a free space; an atom with a free energy level.

Nautical Favorable: a free wind.
Not bound, fastened, or attached: the free end of a chain.
Linguistics

a. Being a form, especially a morpheme, that can stand as an independent word, such as boat or bring.

b. Being a vowel in an open syllable, as the o in go.
adverb
In a free manner; without restraint.
Without charge.
transitive verb
freed, free·ing, frees
To make free, as from confinement or oppression: freed the slaves.
To relieve of a burden, obligation, or restraint: a people who were at last freed from fear.
To remove obstructions or entanglements from; clear: free a path through the jungle.
To make available: Canceling the program freed up money for the new library.
noun
Sports
Freestyle.
Origin of free
Middle English
fre
from
Old English
frēo
V., from
Middle English
freen
from
Old English
frēon
to love, set free
; see
prī-
in Indo-European roots.
Related Forms:
---
free

Adjective
(comparative freer, superlative freest)
Not imprisoned or enslaved.

a free man

(by extension, chiefly advertising slang) Obtainable without additional payment, as a bonus given when paying for something else.

Buy a TV to get a free DVD player!

Unconstrained.

He was given free rein to do whatever he wanted.

Unconstrained by timidity or distrust; unreserved; frank; communicative.
Generous; liberal.

He's very free with his money.

(mathematics) Unconstrained by relators.

the free group on three generators

(mathematics, logic) Unconstrained by quantifiers.

z is the free variable in "".

Unobstructed, without blockages.

the drain was free

Unattached or uncombined.

a free radical

Not currently in use; not taken; unoccupied.

You can sit on this chair; it's free.

Without obligations.

free time

(software) With no or only freedom-preserving limitations on distribution or modification.

OpenOffice is free software.

Without; not containing (what is specified); exempt; clear; liberated.

We had a wholesome, filling meal, free of meat.   I would like to live free from care in the mountains.

(programming) Of identifiers, not bound.
(of a morpheme) That can be used by itself, unattached to another morpheme.
(dated) Ready; eager; acting without spurring or whipping; spirited.

a free horse

(dated) Invested with a particular freedom or franchise; enjoying certain immunities or privileges; admitted to special rights; followed by of.
Thrown open, or made accessible, to all; to be enjoyed without limitations; unrestricted; not obstructed, engrossed, or appropriated; open; said of a thing to be possessed or enjoyed.

a free school

Not arbitrary or despotic; assuring liberty; defending individual rights against encroachment by any person or class; instituted by a free people; said of a government, institutions, etc.

This is a free country.

(law) Privileged or individual; the opposite of common.

a free fishery; a free warren
Adverb
(comparative more free, superlative most free)
Without needing to pay.

I got this bike free.
Verb
(third-person singular simple present frees, present participle freeing, simple past and past participle freed)
Noun
(plural frees)
(Australian rules football, Gaelic football) Abbreviation of free kick.
free transfer
(hurling) The usual means of restarting play after a foul is committed, where the non-offending team restarts from where the foul was committed.
Usage notes
Rank among most common English words: #351 (Gutenburg)
Origin
From Middle English fre, from Old English frēo, Proto-Germanic *frijaz, from Proto-Indo-European *prei- ("to be fond of"), *prey-. Compare West Frisian frij, Dutch vrij, German frei, Danish fri.
The verb comes from Old English frēoġan.
---