adjective
The definition of free is enjoying personal freedom and liberties or to have no cost.

An example of free is a place where citizens may speak and act as they please, as long as they respect this right of others.
An example of free is a complimentary piece of chocolate with a wine tasting.
adverb
Free is defined as without charge.

An example of free is being able to ride a roller coaster at an amusement park without paying.
verb
Free means to release or let go.

An example of free is to let all of the animals out of a zoo.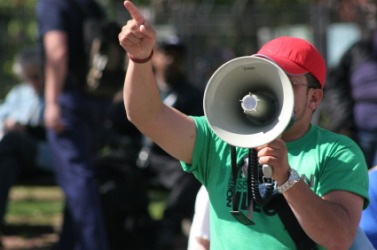 A man exercises his right to free speech.
---
free definition by Webster's New World
adjective
freer, freest
not under the control of some other person or some arbitrary power; able to act or think without compulsion or arbitrary restriction; having liberty; independent
characterized by or resulting from liberty

having, or existing under, a government that does not impose arbitrary restrictions on the right to speak, assemble, petition, vote, etc.; having civil and political liberty: a free people
not under control of a foreign government

able to move in any direction; not held, as in chains, etc.; not kept from motion; loose
not held or confined by a court, the police, etc.; acquitted
not held or burdened by obligations, debts, discomforts, etc.; unhindered; unhampered: free from pain
at liberty; allowed: free to leave at any time
not confined to the usual rules or patterns; not limited by convention or tradition: free verse
not literal; not exact: a free translation
not held or confined by prejudice or bias
not restricted by anything except its own limitations or nature: free will
not busy or not in use; available for other work, use, etc.
readily done or made; spontaneous: a free offer
not constrained or stilted; easy and graceful: a free gait

generous; liberal; lavish: a free spender
profuse; copious

frank; straightforward
too frank or familiar in speech, action, etc.; forward; indecorous
with no charge or cost; gratis: a free ticket
not liable to (trade restrictions, etc.); exempt from certain impositions, as taxes or duties
clear of obstructions; open and unimpeded: a free road ahead
open to all; esp., without restrictions as to trade: a free market, free port
not in contact or connection; not fastened: the free end of a rope
not united; not combined: free oxygen
not opposed; favorable: said of a wind blowing from a direction more than six points from straight ahead

Games

additional; extra: a free turn

Jazz

designating or of improvisation unrestricted by set harmonic structure, rhythmic patterns, tempo, etc.

Linguis.

designating a minimum form, or morpheme, that may occur alone as an independent word: in "boys," boy is a free form, but -s is not
Origin: Middle English fre ; from Old English freo, not in bondage, noble, glad, illustrious, akin to German frei, Dutch vrij ; from Indo-European base an unverified form prei-, to be fond of, hold dear from source friend, Sanskrit priyá-, dear, desired
adverb
freer, freest
without cost or payment
in a free manner; without obstruction, burden, obligation, etc.

Naut.

with a favorable wind
free of or from, exempt from, without: used in hyphenated compounds: tax-free income
Webster's New World College Dictionary Copyright © 2010 by Wiley Publishing, Inc., Cleveland, Ohio. Used by arrangement with John Wiley & Sons, Inc.
---
free definition by American Heritage Dictionary
adjective
fre·er
,
fre·est
Not imprisoned or enslaved; being at liberty.
Not controlled by obligation or the will of another: felt free to go.

a. Having political independence: "America . . . is the freest and wealthiest nation in the world" (Rudolph W. Giuliani).

b. Governed by consent and possessing or granting civil liberties: a free citizenry.

c. Not subject to arbitrary interference by a government: a free press.

a. Not affected or restricted by a given condition or circumstance: a healthy animal, free of disease; free from need.

b. Not subject to a given condition; exempt: income that is free of all taxes.

Not subject to external restraint: "Comment is free but facts are sacred" (Charles Prestwich Scott).
Not literal or exact: a free translation.

a. Costing nothing; gratuitous: a free meal.

b. Publicly supported: free education.

a. Not occupied or used: a free locker.

b. Not taken up by scheduled activities: free time between classes.

Unobstructed; clear: a free lane.
Unguarded in expression or manner; open; frank.
Taking undue liberties; forward or overfamiliar.
Liberal or lavish: tourists who are free with their money.
Given, made, or done of one's own accord; voluntary or spontaneous: a free act of the will; free choices.
Chemistry & Physics

a. Unconstrained; unconfined: free expansion.

b. Not fixed in position; capable of relatively unrestricted motion: a free electron.

c. Not chemically bound in a molecule: free oxygen.

d. Involving no collisions or interactions: a free path.

e. Empty: a free space.

f. Unoccupied: a free energy level.

Nautical Favorable: a free wind.
Not bound, fastened, or attached: the free end of a chain.
Linguistics

a. Being a form, especially a morpheme, that can stand as an independent word, such as boat or bring.

b. Being a vowel in an open syllable, as the o in go.
adverb
In a free manner; without restraint.
Without charge.
transitive verb
freed
freed
,
free·ing
,
frees
To set at liberty; make free: freed the slaves; free the imagination.
To relieve of a burden, obligation, or restraint: a people who were at last freed from fear.
To remove obstructions or entanglements from; clear: free a path through the jungle.
Origin: Middle English fre, from Old English frēo. V., from Middle English freen, from Old English frēon, to love, set free; see prī- in Indo-European roots.
Related Forms:
The American Heritage® Dictionary of the English Language, 4th edition Copyright © 2010 by Houghton Mifflin Harcourt Publishing Company. Published by Houghton Mifflin Harcourt Publishing Company. All rights reserved.
---
free - Phrases/Idioms
for free
☆
Informal
without cost or payments; gratis
free and easy
not constrained by formality or conventionality; informal; unceremonious
free from
or
free of
lacking; without
released or removed from
beyond; outside of
free up
to release, or make available, for use to free up funds
give (or have) a free hand
to give (or have) liberty to act according to one's judgment
make free with
to use or treat as if one owned; use freely
to take liberties with
set free
to cause to be free; release; liberate
with a free hand
with generosity; lavishly