barred

barred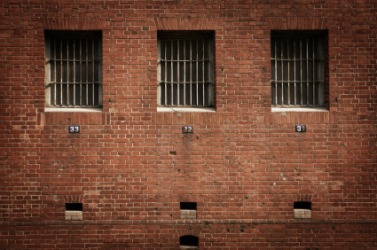 Barred prison windows.
adjective
The definition of barred refers to something that has at least one sturdy metal or wooden rod or plank, or to something that has bands of different colors on it.

An example of barred is a jail cell.
An example of barred is a red and white striped fabric.
verb
Barred means something was prevented from happening, or that something like metal or wood was placed over a door to prevent entry.

An example of barred is when someone blocks a door so you may not enter a premises.
---
barred
having bars or stripes
closed off with bars
forbidden or excluded
---
barred
adjective
Marked with bars or stripes: barred prison cells; barred plumage on a bird.
---
barred

Adjective
(comparative more barred, superlative most barred)
Prevented.

He is barred by term limits from running for a third term in office.
Verb
simple past tense and past participle of bar

He barred the door at evening.
---